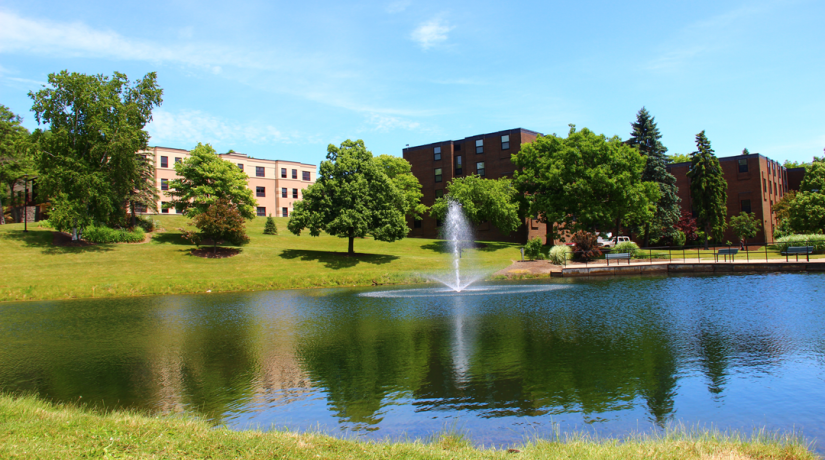 Congratulations on your acceptance to SUNY Morrisville!
As you prepare to enter this exciting new phase of your life, you're probably asking, "What do I do next?!"
We are here to help you answer those questions! After receiving your acceptance letter and financial aid package, we suggest you submit your deposit to secure your spot as a Mustang for the upcoming semester. We require a $200 enrollment deposit, $100 guaranteeing your place in your chosen academic program and $100 to reserve your space in the residence halls. Deposits can be submitted by logging into your Web for Students account. The deadline to deposit for Fall is June 1, 2023.
Once you've paid the deposit and logged into Web for Students, there are a few things you can do to better prepare for your transition to SUNY Morrisville. After submitting your deposit, be sure to check your Morrisville.edu email address regularly, as this will become the primary method of communication used by a variety of campus offices. We look forward to assisting you with a smooth transition to SUNY Morrisville!
So now what?
1. Log into your student portal, Web for Students and Webmail
Web for Students is a great resource to get to know, as it provides you online access to your academic records, course schedules, financial aid and billing information, and housing and meal plan options.
Log into Web for Students using your Morrisville user (ID) and PIN. What do I do if I don't have my PIN? If you need assistance accessing your Morrisville user ID or PIN, please contact the Admissions Office at 315.684.6046. If your PIN becomes disabled, please call the Registrar's Office at 315.684.6066 so that it can be reset.
To get your Username and set your Password for Morrisville e-mail, network, and Blackboard access:
After logging into Web for Students, click on "Personal Information"
Click on "Get /Change E-mail/Network/Blackboard Password."
Follow the prompts on the screen to set your password. After your password change is complete you will be able to see your username for your Morrisville email, network, and Blackboard access.
To access your Morrisville email:
Type webmail.morrisville.edu into the address bar of your browser.
Log in using your Morrisville username and e-mail/network/Blackboard password you created above.
Note: If you forget your password, you will need to re-set it in Web for Students.
2. Fill out the Scholarship Application and the FAFSA
Be sure to fill out the Scholarship Application for best consideration for all scholarship opportunities for which you might qualify. 
If you wish to receive federal loans or grant money, you must complete a FAFSA (Free Application for Federal Student Aid) form and renew it every year. 
For New York State residents, a TAP (Tuition Assistance Program) application can be completed at Higher Education Services Corporation to determine eligibility for New York State grant money. For more information about scholarships, awards, and other forms of assistance available, please contact the Financial Aid Office.
3. Join us for Accepted Student Days in April 
Come see everything Morrisville has to offer at our Accepted Student Days, where you can:
Speak with faculty from your academic program
Speak with Financial Aid and Student Accounts
Take a tour of the campus and a Residence Hall
Learn about various campus offices/services
Meet with Campuswide Advising to finalize your schedule
Accepted Student Days are offered on:
Spring 2024 Accepted Student Day dates will be announced soon.
Register today via your WebforStudents account!
4. Summer Mustang Mondays
Mustang Mondays will take place in July. Additional information about the experience and how to register will be available soon. Check back again, and details will also be emailed to you!
5. Watch and Learn!
See all that SUNY Morrisville has to offer by taking a virtual tour of our beautiful campus! Be sure to also visit our YouTube channel to learn more about our programs, view housing options, hear from alumni and discover a 360° Experience of our facilities.
Other Important Info for Accepted Students
SUNY Morrisville Mathematics Placement Test Instructions
The Math Placement Test is an online, 60-question multiple-choice test designed to be completed in one sitting, and takes approximately two hours to complete. Please note that math placement is not determined solely by this test. The faculty of Morrisville's Department of Mathematics will review all relevant academic materials to determine your final class placement.
The placement test score is needed before your schedule can be made. If you require testing accommodations, please contact your SUNY Morrisville Admissions Advisor to make individual arrangements. You must pay your admissions deposit to access the exam.
more information on the Math Placement Test
Housing and Roommate Assignments
Students planning to live on campus must complete a housing application prior to being placed in housing. Housing applications for fall 2022 will be available starting in March, you can access the application through your Web for Students checklist.
* SUNY Morrisville email must be activated prior to submitting housing application.
The last day to submit a roommate request form is in June (specific date T.B.A.) Housing assignments will go out in the summer.
* Please note: housing preference and roommate assignments are based on deposit date and space availability. Please contact the Office of Residence Life at reslife@morrisville.edu with questions.
Semester Course Schedule
As an incoming freshman our CampusWide Advising office will build your course schedule for you, transfer or readmission students, your school office will build your course schedule for you. Each subsequent semester, you will be responsible for meeting with your faculty advisor to formulate your own schedule.
Textbooks
Textbooks are not kept on-premise at the Campus Store. Therefore, students must order their textbooks online before the semester begins. Textbooks may be shipped to the students' home or to the Campus Store for pick up.
Immunization Records and Health Insurance Waiver
Immunization records must be submitted to the SUNY Morrisville Student Health Center. You must provide proof of two MMR vaccines (Measles, Mumps and Rubella) and proof of the Meningitis vaccine or Meningitis waiver. You will not be able to register or access your class schedule until you are in compliance with these immunization requirements.
If you are covered under a family or individual medical insurance plan, you can submit the hospital insurance waiver form on your Web for Students account to have that charge removed from your semester bill.
All students are required to have medical insurance. If you are not covered under a family plan, the college's Business Office can help you choose a health insurance plan.
Final High School Transcripts
Directly following high school graduation, you must submit your official final high school transcript verifying high school graduation, or the equivalent, to the SUNY Morrisville Admissions Office. Please note that the transcript must include a date of high school graduation.
Failure to submit official final high school transcripts by the first day of classes may impact your receipt of federal and state financial assistance. Additional implications may include housing status and meal plan access.
Contact Admissions with any Questions
If you have questions about the steps to complete after you have been accepted, please contact the Admissions Office at 315.684.6046 or admissions@morrisville.edu, or you can set up a virtual appointment with us at morrisville.edu/visit.