Keep up with an industry where the pace of change is fast and furious.
We've been popping hoods and wrenching on parts since before there was a successfully mass-produced car or turn signals and air-conditioning were invented. The automotive industry has changed a lot since then (1933), and we have been there for every new development—from airbags and fuel injection systems to hybrids and smart cars.
At SUNY Morrisville, you will study—and put your hands on—every part of a vehicle, bumper to bumper, roof to undercarriage. Whether your interest is wrenching on a trusty tractor or working with onboard computers in the latest hybrids, we have the program for you. Our students love vehicles inside and out, so we offer programs in auto body, auto mechanics and automotive management.
At SUNY Morrisville, your course of study goes beyond the traditional automotive education. Through hands-on experiences in true-to-life facilities, you'll be prepared for entry into all aspects of the ever-changing automotive industry by evolving with it. 
You'll find mentors among our outstanding faculty, dedicated professionals who have worked in the industry and maintain contacts with automotive companies and support industries for all makes and models. Partnerships with industry leaders such as Fiat Chrysler, Ford and Subaru support the learning environment with new technology, vehicles and factory certifications.
You'll end your studies with a required internship as your capstone course, further providing you with a true industry experience to accelerate your career.
Find what fuels your passion, what drives you and what road is your path to a successful career. Before you know it, SUNY Morrisville will have helped you turn a gas cap into a grad cap.
Automotive Technician, 2018
Noah Greger '18 tells us how the comprehensive education in the automotive industry and the opportunities for internships in the local area have helped him succeed in his field.
Credentials and Training through National Partnerships
The SUNY Morrisville Automotive Department takes great pride in its ongoing partnerships with industry leaders. Among them are working relationships with top brands such as Ford, Subaru and Fiat Chrysler Automobiles (FCA), as well Federal-Mogul Corporation, Axalta coating systems, NAPA Auto Parts, Snap-On Industrial Brands, The Hartford insurance, and Syracuse Nationals, the largest car show in the Northeast.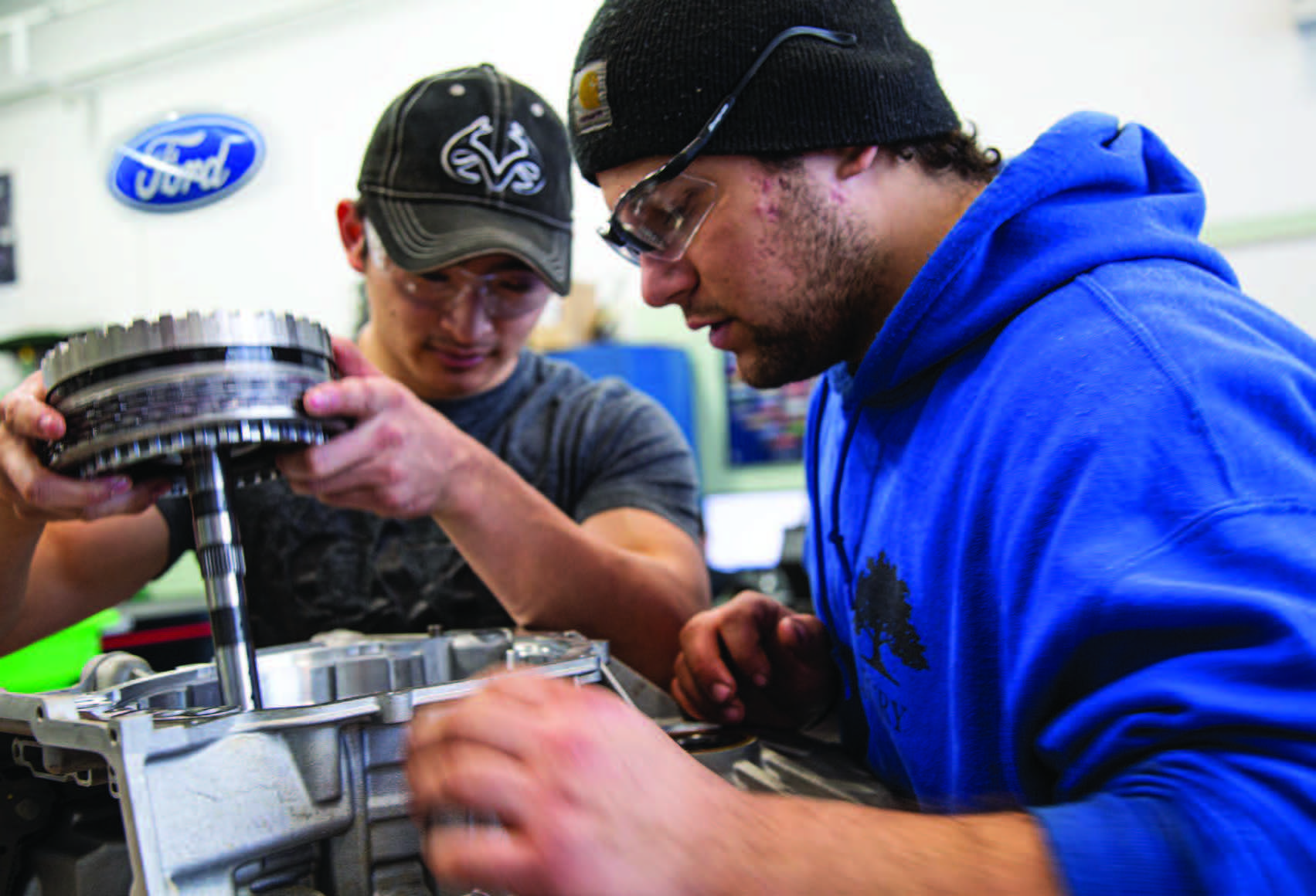 Mopar Career Automotive Program (MCAP)
Established to develop the most highly skilled service technicians in the auto industry, the Mopar Career Automotive Program (MCAP) provides you the opportunity to earn manufacture-specific credentials with laboratory activities on current production vehicles.
Through this partnership with Chrysler Automotive Group, you can work and learn in Chrysler dealerships during a summer applied learning class and work with brands such as Chrysler, Dodge, Jeep, Ram and FIAT.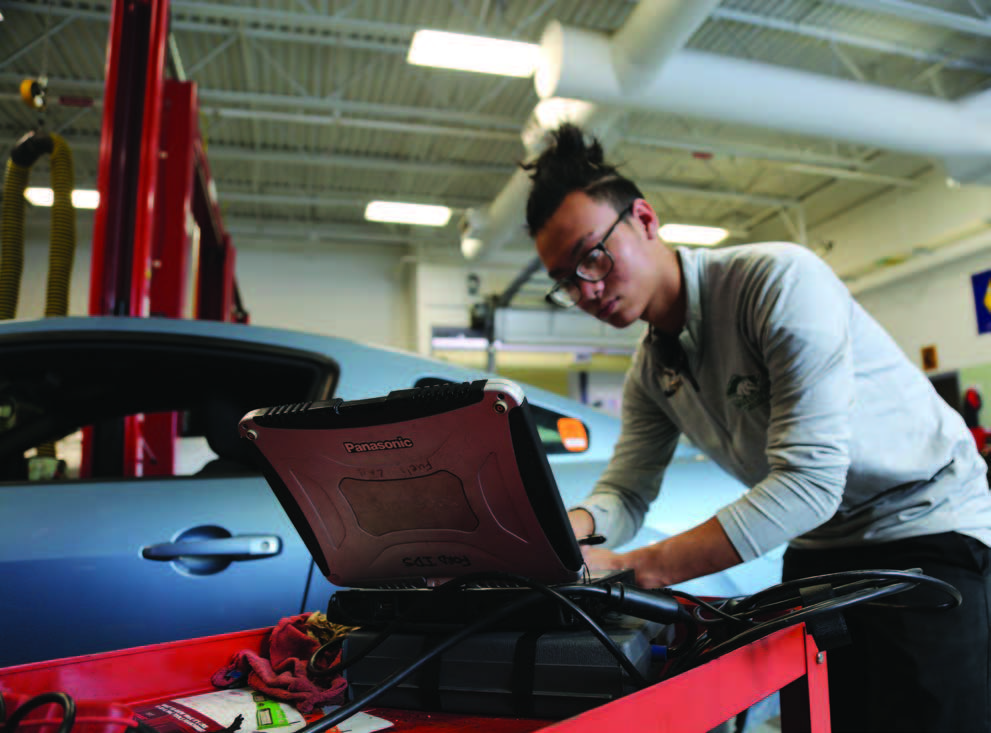 Subaru University (Subaru-U)
SUNY Morrisville has been selected as one of only a few automotive programs across the nation to take part in Subaru University (Subaru-U). This exciting program is a unique partnership that infuses Subaru's Web-based training into our existing curriculum and provides you with the ability to take most of the entry-level training required of all Subaru technicians.
Valuable knowledge of Subaru vehicle systems puts you on track for possible employment in any one of approximately 600 Subaru retailers nationwide. If you are apprenticed at a Subaru retailer, you are also eligible for additional training through Subaru.
Formal Articulation Agreements
For all of our A.A.S. programs, SUNY Morrisville has agreements with all New York State BOCES programs utilizing the Vocational Technical Endorsement. For certain programs or agreements, we can waive up to 11 credits.

Automotive Facilities and Equipment
The SUNY Morrisville automotive facilities are up to speed with the ever-changing auto industry, offering the latest in technology and equipment.
The SUNY Morrisville automotive facilities are up to speed with the ever-changing auto industry, offering the latest in technology and equipment. Our 14,000-square-foot Auto Body Technology Building houses the most current tools and equipment for collision repair and metal fabrication. Set up as a real-world auto body shop, you will perform live laboratory work and help staff a parts department and live service desk to gain experience with repairs, refinishing and estimating.
Our Automotive Technology Building, a 50,000-square-foot facility replicating an auto dealership, also provides true-to-life experiences through numerous repair stations and a new vehicle showroom. The technologically sophisticated environment features the latest in new vehicle diagnostic equipment and offers:
Automotive Clubs and Activities
In addition to a unique education, SUNY Morrisville provides a variety of auto-related clubs and activities to further accelerate your experience.
Automotive Club
SUNY Morrisville's Automotive Club provides students with the opportunity to extend their knowledge of the automotive industry through video tutorials, professional engineers and field trips. Open to the entire student body, the Automotive Club supports an annual fall and spring car show, while actively participating in other campus, community and local charity events.
Specialty Equipment Market Association (SEMA)
Members of the Automotive Club and faculty participate in the annual Specialty Equipment Market Association (SEMA) automotive trade show. The premier automotive specialty products trade event in the world, the SEMA Show provides attendees with numerous networking opportunities, educational seminars, SUNY Morrisville students, product demonstrations and special events.