Long days on the farm, grit and determination have come to define dairy management student Carrie Shuman on her journey to graduation.
Born and raised on a former dairy farm in Bloomsburg, Pennsylvania, Shuman amassed emotional and financial hardship following the death of her father during high school and the recent loss of her brother.
The unassuming, petite, 22-year-old has persevered and received her bachelor's degree in May. It is more than a stepping stone into the dairy industry — it is a badge of her fortitude.
There were early indications when Shuman was young that she wasn't one to give up.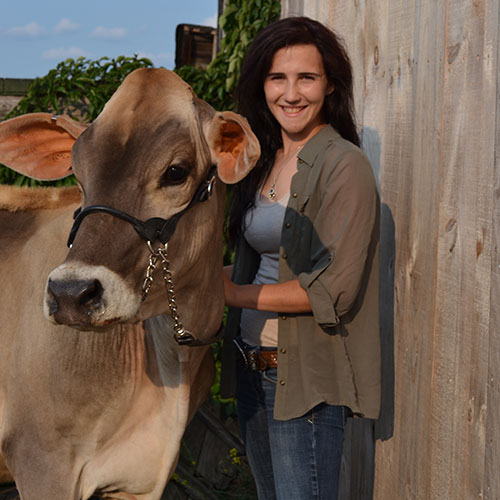 Growing up and raising dairy steers and beef cows with her family, she bought her first Holstein heifer, when she was 12, after attending a Pennsylvania Holstein Association meeting. It was then that she began thinking more about her future and how it could include dairy, milking and possibly even processing milk into ice cream, cheese or yogurt.
The family began purchasing and raising more dairy heifers for their farm, Jessa Farms, a herd which has grown to 34 Registered Holsteins and Brown Swiss.
Shuman's future was bright. She had plans to go to college. Life was good.
Then, on what was supposed to be a normal day in 2012, her father was tragically killed in a farm accident. Her brother, Joshua, was also injured and has since recovered.   
Shuman was a freshman in high school at the time. Her father's death caused financial hardships and uncertainly about her future plans. A small life insurance policy covered only some funeral and medical costs.
From that point, everyone had to do more around the farm. Shuman started working at local farms to help out with finances, too.
"As the reality of our financial situation set in, I realized that if I wanted to fulfill mine and my father's dream of me going to college, I would have to work harder than before."
She excelled in school, graduating at the top of her class, and enrolled at SUNY Morrisville.
Her financial situation was eased by a Life Lessons Scholarship of $10,000, given by Legal & General America, which recognizes students like Shuman for perseverance in the face of adversity following the loss of a parent or guardian, with little to no life insurance.
"This money will help me get to my dream of building a dairy barn with an on-farm creamery to take my family farm into the future."
Shortly after receiving the scholarship, her brother Jake '05 lost his battle to cancer in December 2018.
Strength came in many forms from the college she describes as having a family atmosphere with caring faculty.
"Carrie's senior year was difficult, however, she never missed a class. She was always upbeat and always carried her team to the end," said Sheila Marshman, associate professor of agricultural business.
The team refers to a group of students who worked together in an Agricultural Business Marketing & Distribution class to develop a product to manufacture and sell.
Shuman's team developed Fall Wake-Up Call, a seasonal blend of pancake mix.
"The product is representative of Carrie's values, beliefs and passion for rural living," Marshman said. "She and her team also developed a marketing plan to distribute and sell it throughout the Northeast.
"Determined, willing to learn, and willing to step outside her comfort zone are the first words that come to mind when I think of Carrie," Marshman added. "Although a dairy major, she frequently ventured over to agricultural business to learn more about product marketing and product development."
Morrisville opened a lot of doors and opened my eyes to other opportunities. It has helped me to fulfill my dream.
She took an idea of a milk processing business to the college's Cotton Business Idea Competition, which gives students a chance to advance their product idea, and placed second.
"In my area, there are only two farms processing and they are selling raw milk, different milk flavors and ice cream," Shuman said. "I was doing market research and found there are enough people in our area to come to the business."
"She is determined to fulfill her goal of opening a farm processing center," Marshman said.
Shuman credits SUNY Morrisville with helping her to think bigger. She participated on the cattle judging team and traveled to competitions in Harrisburg, Pennsylvania, Louisville, Kentucky, and the World Dairy Expo in Madison, Wisconsin.
She participated in the Dairy Club, too, serving as donation chairperson for the Annual Autumn Review dairy sale.
An internship she completed at Trinity Valley Dairy in Cortland, New York which makes pasteurized but non-homogenized milk and cheese curds, further broadened her horizons.
"Morrisville opened a lot of doors and opened my eyes to other opportunities," she said. "It has helped me to fulfill my dream."