Walking across campus, Sheila Marshman greets a group of students with a wide grin, chatting about her daughter's recent performance at the All-American Dairy Show in Harrisburg, Pennsylvania.
Visiting an alum at a local farm later that day, she doesn't hesitate to hop up on a forage harvester to pose for a photo, striding across the hay fields with confidence.
Her dynamic personality transcends the classroom and has inspired countless graduates to find and follow their purpose.
When Marshman joined the SUNY Morrisville faculty in 1998, the college offered just one four-year degree program.
Her accomplishments include the development of a bachelor's degree program in agricultural business development, which helped catapult the college into the top tiers of agriculture institutions. 
She is an ardent supporter of the Nelson Farms business incubator and food processing facility, which has helped hundreds of entrepreneurs (including Morrisville students) launch their own food products.
She co-authored the college's first master's degree program in food & agribusiness, a project that will support professionals throughout the entire global system and help students who want to bring the family farm into the next generation.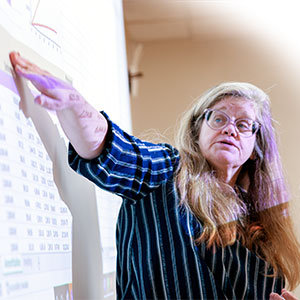 "As our farms get larger, the skillset of managers and owners just keeps increasing," she said. "The industry needs students who are critically thinking and making decisions at that level."
This spring, she received the college's Distinguished Faculty Award for her outstanding commitment to students, the college and community.
But for Marshman, the real reward comes from the success of her students, who will be the authors of the future success of the agriculture industry.
"We are watching the rural economy change because of Morrisville students," she said. "It's a powerful thing."
Her roots
Marshman traces her own personal momentum to growing up on a working dairy farm in Groton, Vermont.
"The work ethic of my parents, the 24/7 commitment to the land and agriculture — that is still what drives me today," she said. "Those committed to the food system — it's in our blood."
But after college, she considered a change of fields, in part because of hardships her parents faced. Her undergraduate studies at Northern Vermont University included a semester abroad at the London School of Economics.
"I always thought there had to be a better life out there," she said. "It is a big world out there, and I wanted to be a part of it. So, I set out to pursue that, only to realize that the best life really is the life of agriculture and the food system."
After graduation, employment opportunities brought her to Central New York — first as part of Agway's management training program and then as an assistant vice president in agribusiness lending with Key Bank in Syracuse.
The work ethic of my parents, the 24/7 commitment to the land and agriculture — that is still what drives me today.
Sheila Marshman
While pursuing an MBA at Le Moyne College, Marshman said her fellow students always joked that her financial acuity would translate well on Wall Street. She later went on to earn her Ph.D.
"I always said, 'I'm going to the farm,'" she said. "Some of us have to leave our industry to truly appreciate it. With the students, I encourage each of them to leave, explore, spread their wings, see what's out there. That's how you find your love, your passion, your purpose."
Her work and personal life crossed paths when she married John Marshman and settled on his family's seventh-generation dairy farm, Tiger Lily Holsteins in Oxford, near the Norwich Campus.
"I was out and about visiting farms, and I stopped in, and the rest is sort of history," Marshman said with a smile.
A natural fit
A teaching position at SUNY Morrisville was the next natural fit.  
The college was founded in 1908 as a progressive public coeducational institution in response to New York's unsafe food systems and spiraling prices in the face of the abandonment of the family farm.
More than a century later, its core mission remains steadfast: to educate and prepare graduates as future leaders in their specialized professions and their communities.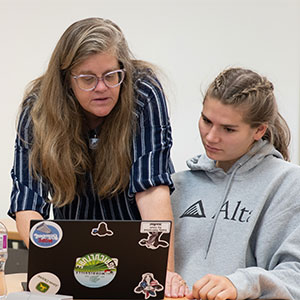 "Teaching energizes me and I strive to share my passions for the extraordinary complexities of the food system, production agriculture and finance with others, particularly college students," Marshman said. "My goal as a professor is to instill a passion for learning within my students, one that helps each student find their purpose."
SUNY Morrisville student Jenna Wilbur has already applied some of her coursework to improve operations at her family's 60-head cattle farm outside of Albany.
"It definitely helps me understand how challenging it is for my parents," she said. "Our professors connect what we are learning in the classroom to the real world and I can already see what an asset that can be."
Marshman's network extends beyond New York State. Her extensive agricultural experience includes attending the International Agricultural Economics Conference in Beijing, China, and participating in a food system tour of rural China as an invited guest of the Renmin University of China. The trip prompted much of her advocacy and education for a local food system in the United States.
"On the other side of the world, we met with farmers and talked about the challenges and opportunities they face," she explained. "It's still agriculture. And I bring those stories back to the classroom."
Janet Hanehan '18 chose SUNY Morrisville to broaden the perspective cultivated on her family's fifth-generation dairy farm in Saratoga County.
"I needed to figure out where I fit in the industry," she said.
Her undergraduate years included a four-month internship at a dairy farm in New Zealand, a connection that was fostered by Marshman.  
"The experience that I got over there was a once-in-a-lifetime opportunity," she said.
"I think a lot of what we're doing here at Morrisville is just helping young people believe in themselves," Marshman said. "They have to know that they too can be a part of the world."
Our professors connect what we are learning in the classroom to the real world and I can already see what an asset that can be.
Jenna Wilbur
As an undergraduate, Sam Arotsky '06 milked cows at Indian Camp Farm to make extra money, a gig that was set up by Marshman.
Today, he's part owner of the 550-head dairy in Earlville, New York, and credits his career growth to their ongoing relationship.
"She's just always so encouraging," said Arotsky. "She'll say, 'What are you guys going to do to expand? Are you thinking about diversification?' And that makes me think about what could be next."
Following her students in their careers is an honor for Marshman.
"It feels like I have this looking glass, and I'm able to just watch the students as they grow and succeed," she said. "They grow into responsible and respectable humans and so that makes me feel accomplished."
But maintaining that connection to alumni has a bigger purpose. At the dairy show in Harrisburg, Marshman said she caught up with former students that are making a difference.
"Everywhere you go in the Northeast, you'll find our alumni working in agriculture," she said.
"They are out there helping us recruit and employing our graduates. That is not something that happens at every institution, and that's what I've always thought is so special about Morrisville."
Sheila Marshman, associate professor of agricultural business development, and  Scott Colby, assistant professor of agribusiness, developed SUNY Morrisville's new
master's degree in food & agribusiness
(FAB). The fully online, two-year degree prepares professionals for careers throughout the food system, drawing from agricultural economics, food marketing, supply chain management, organizational management, econometrics, agriculture and food regulation, and more, all tailored to the special problems that food businesses face.
More than a resume
Sheila Marshman uses her knowledge of the agriculture industry to help current students and alumni.
Some of her connections include:
NY FarmNet, helping farm families across the state make financial decisions and plan for their future through succession/estate planning.
GrowNY, a business competition focusing on growing agriculture innovation throughout the region. 
Farm Rancher Stress Assistance Network - Northeast, where she and her agribusiness students, in conjunction with other universities and industry leaders, wrote five case studies to improve the financial literacy of seasonal farmworkers.
Co-advisor to SUNY Morrisville National Agri-Marketing Association (NAMA) Chapter and Collegiate Farm Bureau.
A noted national, state and local speaker, Marshman is engaged in the community, serving on the Board of Directors for the Development Chenango Corporation, the NBT Bank Southern Tier Regional Advisory Board, New York State Promotion Order Board, New York State Dairy Think Tank and the New York State Agricultural Foundation Board.
Her work with local organizations includes youth softball, FFA and 4-H, and involvement in dairy product giveaway efforts at the college's Norwich Campus and in Chenango County to assist families in need during the COVID-19 pandemic.