Five years ago, Elizabeth Hope Noble '16 was finishing high school and serving as valedictorian of her senior class. The self-described "small-town girl'' was ready for college and thinking about life beyond it. She knew she wanted to work in a field where she could have a positive impact on people and she knew she wanted to see more of the world.
Today, Noble, 23, lives in Rochester, New York, where she works as an emergency room nurse at Rochester General Hospital. In her down time, she likes to read, explore the city and its parks, and raise funds to take part in medical missions in remote corners of the world. If you said she lived up to the character of her name — giving hope to others through noble causes — you wouldn't be the first.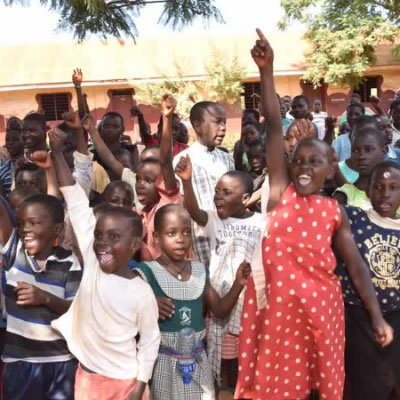 In January, the SUNY Morrisville nursing graduate completed her second mission to Uganda through Resurrection Life Fellowship Church, in Eaton, and David's KidZ, a nonprofit Christian organization (with a SUNY Morrisville connection) that offers opportunities for people to sponsor children in Africa who are in need of medical care, education, clothing, clean water and food. 
While there, she volunteered as a nurse at clinics in rural villages that included physicals, treatments, dental exams, administering medicines and prayer. The clinics serve hundreds of children, and children hold a special place in Noble's heart. She herself sponsors a child through David's KidZ; a young girl she has had the opportunity to meet and hug during her travels.
"It's not a vacation, but I take vacation time to do this,'' Noble said. "This trip was only about a week and a half. We have the clinic for about five days, two days in one village and three days in another village.
"This is probably going to end up being something that I do every year. It's so cool to see how these communities are getting used to us being there. We've heard that people wait a whole year to see a doctor when we're there because they don't have money to see a doctor otherwise.''
Prior to the January mission to Uganda, Noble contacted members of the nursing faculty at SUNY Morrisville seeking donations of medical scrubs to take along on the trip. They were happy to help.
"She's an amazing young woman,'' said Tammy Chandler, an assistant professor in the School of Science, Technology & Health Studies who has known Noble since she was a child.
The January mission took Noble and other volunteers to Jinja, a small city in southern Uganda. Volunteers stay at a hotel and meet for breakfast before the dusty and bumpy ride to the rural communities where they perform their work. The volunteers teamed with men and women in the villages, who serve as translators and helped the volunteers secure medical supplies and food. Most of the patients they see are children, Noble said, some with distended bellies and yellowish eyes associated with malnutrition. Diarrheal disease, dehydration and dental issues are among the problems they encounter and treat.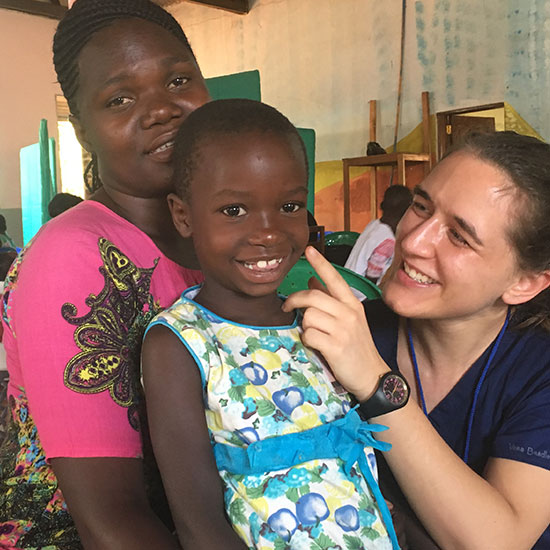 In addition to medical care, the volunteers also provided meals for the children. Meals might include rice and beans and a little meat — a treat for kids whose diet typically consists of porridge and mashed bananas. At the end of the day, the volunteers returned to their hotel to relax and unwind.
Visiting undeveloped areas and experiencing cultural differences and health care disparities firsthand is eye opening and thought-provoking, Noble said. "When you're first exposed to how people live, it can be hard to see, for sure, especially when you compare it to how we live,'' she said. "It makes you think. But that is their way of life there. That is their normal. They don't know anything different. For them, as long as they have shelter and food and health, they're happy.'' 
Noble grew up near Morrisville, the youngest of four children. She graduated from New Life Christian School, in Hamilton, New York, in 2014 and had planned to become a teacher until her father suggested she consider a career in nursing.
While in high school, she took part in a medical mission to Haiti, accompanying an aunt who is a doctor. The experience sparked her interest in the world of nursing and international health services and she began to think seriously about nursing as a career.
She visited several colleges, but when she did the math for tuition and housing at other schools, Morrisville moved up on her list. It also helped that, as valedictorian, she qualified for a scholarship to Morrisville.
"I've always been that girl who said 'I would never go to Morrisville,''' Noble recalled. "But it kept happening that doors were opening for me to go there. I'm really glad I did."
Following graduation, Noble was offered a position at Rochester General Hospital. She served as a nurse on several of the hospital's general medicine floors while working toward a Bachelor of Science degree in nursing from SUNY College at Brockport.
Late last year, she requested a transfer to the hospital's emergency room. She plans to get a couple years of ER experience under her belt and explore the steps needed to reach her goal of working for Doctors Without Borders or another international organization that provides medical humanitarian care.
"I'm really passionate about international health and public health, and ultimately my goal is to work in this area,'' Noble said. "Over this past year, I've realized more and more that is what I want to do, long term.''
About David's KidZ
David's KidZ International is a nonprofit organization established by John and Kristy Camp in memory of their son, David, who died in 2010. At the time of his death, David was a business student at SUNY Morrisville. In 2007, David had a life-changing experience: volunteering at a small orphanage in Africa. It was his goal to return some day, on a mission of hope and help.