William K. "Bill" Guglielmo, Morrisville Class of 1969, died in February after leading the Rome Area Chamber of Commerce for more than 25 years.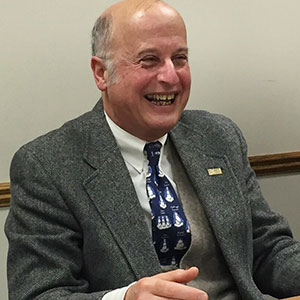 Bill said that when he enrolled in Morrisville he expected to return to his hometown of Rome to have a role in the city's future. He kept a low profile in college, both at Morrisville and later at the University of Buffalo, where he earned his bachelor's degree in 1971. I have to admit I was a bit surprised when a mutual friend told me at his wake that he had been president of his Rome Free Academy Class of 1967. He never came across as a politician, but more of a statesman.
I met Bill when we lived in the same hall in a rooming house across Route 20 from the Morrisville campus in 1968. My wife and I followed our careers to Rome a couple years later.
Bill returned to Rome in 1973 and took a staff assistant position with the Rome Chamber. Fifty years later, he retired as the organization's longest-serving president, a post he had held since 1996. In the interim he had served as the Rome Chamber's Director of Government Affairs & Membership Development, Administrator and Executive Vice President.
He was soft spoken, but determined, in college and at the helm of the Rome Chamber.
Bill played a central role in local business development. The year he was named Chamber president, Griffiss Air Force Base, Rome's key economic driver for decades, closed its gates. Working closely with political and business interests in Rome, Oneida County and New York State, Bill helped his city rebound from that economic disaster. Today, businesses at the former air base, now Griffiss Business and Technology Park, along with two remaining military installations, have more civilian employees than the base had civilian and military workers combined during Griffis's heyday.
In that same era, Bill helped cement Rome's Annual Honor America Days celebration as one of the region's premier events.
When he found any spare time, Bill loved to tool around in his vintage Pontiac Firebird, entertain friends on his guitar, or work beside his wife, Luba, renovating their home.
Contributions in Bill's name may be made to the Rome College Foundation or the Humane Society of Rome.