Shortly after he graduated from SUNY Morrisville, Kyle Clark '18 returned to his fifth-generation family dairy farm with a four-year degree in dairy management and a plan to resurrect the creamery that once stood on the property, located on Elk Creek Road in Delhi, New York.
His vision and hard work came to fruition with the official opening of Clark Farms Creamery on March 1, a venture that put the family name on milk bottles and dairy products throughout southern New York and beyond.
In eight short months, popularity of the milk (whole, reduced fat, skim and chocolate), butter, cream and half-and-half produced at the creamery surged beyond anything Clark could have ever imagined.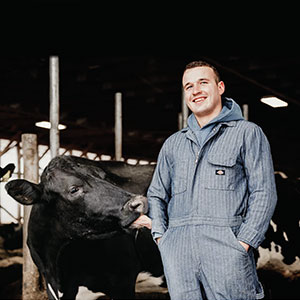 The budding business leaves him little time to spare these days. He shared his story during a quick cell phone conversation while driving to distribute milk.
"Having your own brand is so rewarding," Clark said. "We are working 10 times harder than before. It is nonstop and hectic but, at the end of the day, I love making a product and selling it to people and could not dream of doing anything else."
The creamery, owned by Clark, sits on Clark Dairy Farms, a business started by his great-great-grandfather and now run in partnership with his father, Thomas.
"We had next to no customers when we started out and were peddling a couple hundred gallons at first," Clark recalled. Today, 400 to 600 gallons of milk are processed daily, five days a week. Two hundred of them sell out nearly every day from their farm stand.
Within weeks of opening his creamery, the COVID-19 pandemic shut down restaurants and put a freeze on many of Clark's deliveries. With gallons of milk left over, he bought a refrigerator, filled it with milk, and placed it out front as a self-service stand.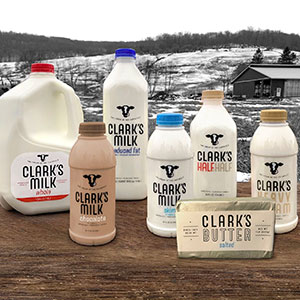 "I didn't know if people would pay a higher price for milk that comes from a local farmer in their backyard," Clark said. "I thought it would mostly sell to just neighbors, but people were driving miles to buy it. This self-serve farm stand just took off."
Driving sales are a quality product from the Clark Dairy Farm's prized herd of milking cows.
"Our dairy products are made only from the milk of our herd," Clark said. "We never outsource."
And because it is vat-pasteurized (heated at a lower temperature for a longer time), it has a distinct flavor and sweetness customers love. Their chocolate milk, which Clark describes as tasting like melted chocolate ice cream, is a favorite.
A drinkable yogurt will soon add more choices for consumers. "We're still perfecting this recipe, but the future looks bright for this product," Clark said.
As he adds products and the business grows, Clark is particular about maintaining its hometown feel.
I want to stay small. I want everyone who is buying milk to know they are getting it right from the farmer. It is our cows, our process and our milk.
Kyle Clark
"I want to stay small," he said. "I want everyone who is buying milk to know they are getting it right from the farmer. It is our cows, our process and our milk."
Part of the appeal of the business is attributed to the original family farmhouse and barn (still in use) and a hobby woodshop where customers admire his grandpa Pete's handmade furniture.
Patrons also have grown fond of their "mascot," the family dog named Steven. "He's your typical lazy cartoon hound dog who waddles over to every customer to say hello," Clark said.
Working on the family's farm has always been part of Clark's career plan. "There was no doubt from when I was a little kid, I was going to be a dairy farmer working with my father."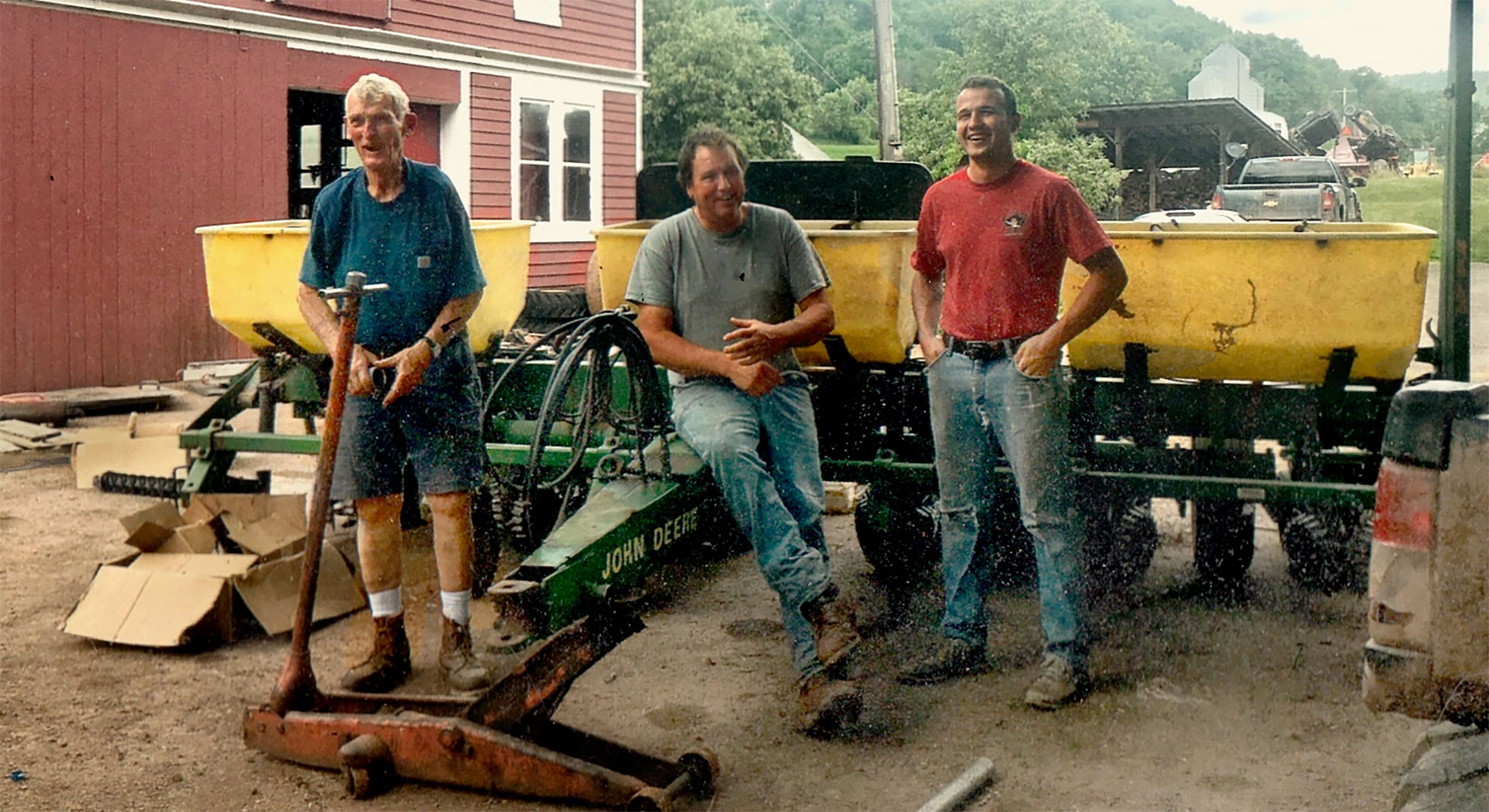 After hearing good things about SUNY Morrisville, he enrolled in the animal science - dairy program and upon graduating with an associate degree, transferred into the college's dairy management bachelor's degree program.
"It was hands-down the best decision I ever made in my life," Clark said. "The four-year program gave me a look at the business side of the industry and spurred me to want to do something different."
So did a part-time job at SUNY Morrisville's dairy incubator, where his vision to run a creamery began.
"I knew it (creamery) was a trending thing, and I went for it," said Clark, who started collecting used equipment before he graduated.
Professors at SUNY Morrisville provided him with much of what he needed while working toward his dream. "Dr. (Steve) Mooney is one of the most intelligent professors I have ever met," he said. "His knowledge and ability to find ways to cater difficult subjects to students on an individual basis definitely helped me through."
Clark's ties to SUNY Morrisville remain strong. Last semester, he opened his business to associate professor Sheila Marshman's Capstone Farm Management & Rural Entrepreneurs class. Students take on farms as a business and act as consultants to evaluate financials, human resources and strategic management. Marshman's class specifically focused on marketing and distribution at Clark's creamery.
Clark fondly remembers the class. "It was a superb opportunity that gave me a look at actual records and real numbers. In the end, we had to put in a practical recommendation to the farm owner," he said.
As he talks enthusiastically about his plans for the future, which include developing products and growing the brand, Clark stops to acknowledge all he has to be grateful for.
"We are so thankful for all of our loyal customers," he said. "Every day I get to wake up and do what I love to do. This country was built on agriculture and it is kept going
by farmers everywhere."