One large, ongoing art project is how Taylor McDowell describes his life.Why? Because its elements combine to create a portrait of what the 2015 SUNY Morrisville
graduate loves: web and game development, drumming, storytelling, art and music. Each has shaped the life of the 28-year-old New Hartford, New York resident, whose palette is a colorful blend of perseverance and will.
Despite being born with 80% hearing loss, McDowell has persisted to become a drumming instructor, pit musician, well-known street performer, and a web and game developer.
The accomplished artist shares his love for drumming and technology in a new informative and entertaining YouTube channel called GeekSalad, where he posts inventive videos and performance tips.
His most recent offering on the channel was a free, five-part instruction workshop called "Bucket Drumming." Bucket drumming refers to improvising with household items — buckets, pots and pans, even a pizza box — in lieu of expensive drumming gear.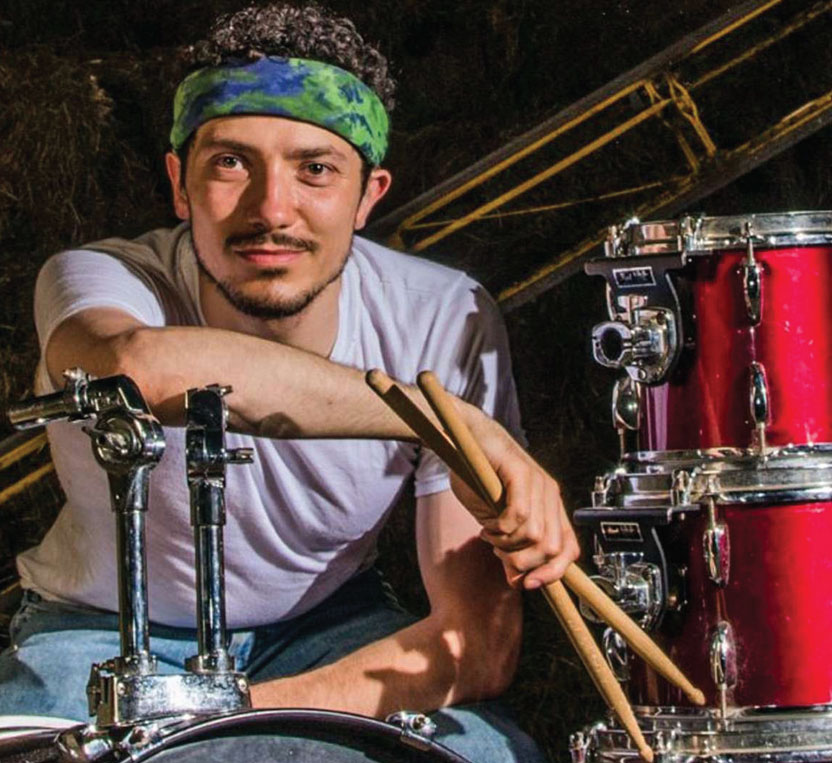 His workshops are designed for children and anyone who may be interested in street performing. McDowell introduces participants to the basics of drumming and includes stick grip techniques, drum beats, rudiments (drum patterns), exercise and live performance tricks.
"Arts at the Palace" in Hamilton, New York, hosted the videos after the concept came about during the COVID-19 pandemic.
"Some of the most creative concepts and music are born during these times," McDowell said.
The pandemic introduced an unexpected challenge. McDowell's primary way of understanding people is through reading lips, but masks have made that more difficult. With the help of hearing aids, he can hear frequencies, but still has trouble hearing the pitch of the average human voice.
From a young age, McDowell didn't let his hearing impairment stand in his way and views adversity as an opportunity to be more creative. To compensate for his hearing impairment, he taught himself how to listen with other parts of his body.
"Being hearing impaired has given me a whole different perspective on life," he said. "You don't have to have ears to hear. I listen differently and use other senses to hear."
A strong sense of vibration gives him the ability to identify timings and affords him a heightened means to feel his music. "You can use your whole body for listening. The primary source of sound is vibration."
College years
After taking a course at Cazenovia College, McDowell decided to enroll in SUNY Morrisville's information technology program as an avenue to hone his programming skills.
He went on to earn an associate degree in computer information systems (2013) before transferring into Morrisville's bachelor's degree program, application software development, where he graduated with honors.
His Morrisville degrees opened many doors after graduation and two internships expanded his skills, making him more marketable in the industry. He is now a web developer for digital collections and scholarships at Hamilton College, in Clinton, New York.
Morrisville also offered McDowell practical experience in applying his game development skills through participation in the Global Game Jam ™ (GGJ), the world's largest game creation event. The college annually serves as a host site for the popular event that tasks participants from all over the world to create an online game within 48 hours. He has not missed a jam since 2011.
I found a way to combine what I love into one source, doing all of my own programming, graphics, music and art in my games. Drumming is a talent that helps me learn other things and carries over so I can combine my skills.
Taylor McDowell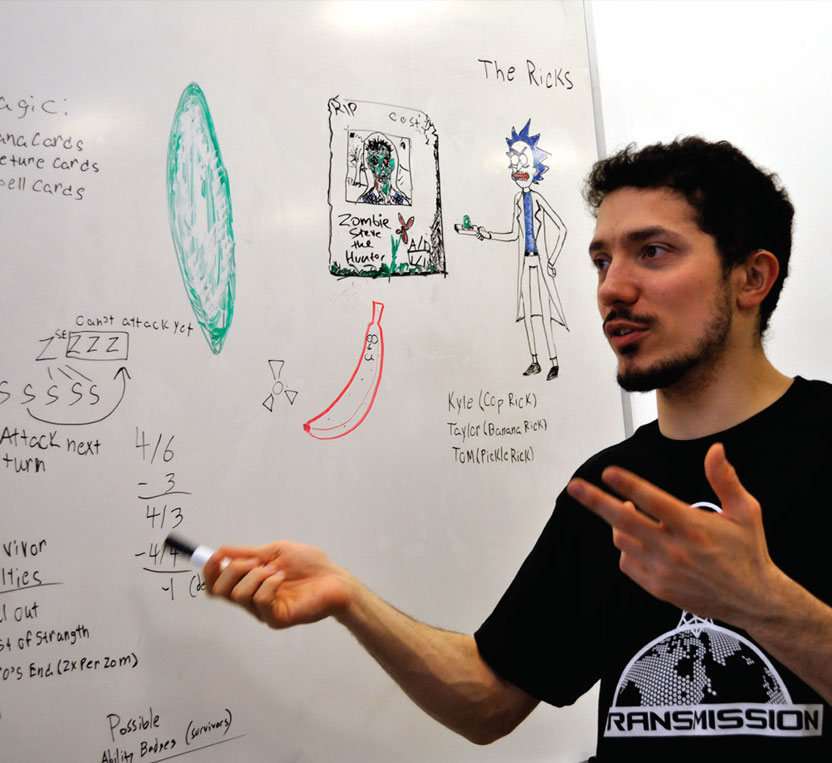 Far beyond the classroom were additional skills McDowell amassed at college.
"Social communication was an unwritten class," he said. "Because I was homeschooled, I didn't have as many communication skills as others. Morrisville is where I really got good at communicating with people who had other skillsets and started working in groups."
McDowell has taken those lessons to the streets, performing as a solo drummer in the annual Saranac Thursday concert series in Utica, New York, and other venues. His first drum solo experience in the Big Apple was performing at 34th Street and 7th Avenue, near Macy's department store.
"It was so exciting to see all of the people walking by and those who stopped to listen to me," he said. "Music is a great way to bring everyone together."
His talent shows in his performances, which include blazing drumming while twisting and flipping his drumsticks in the air.
"I just start my own beat and improvise," said McDowell, who puts his all into every performance. "If they see I am having a good time, they will, too. I love hearing the
reaction from the crowd."
His commanding stage presence and affinity for drum soloing have affectionately earned him the nickname "Taylor - The Frontman Drummer."
The beginning
McDowell grew up in Eaton, New York, the oldest of two boys.
When he was three years old, doctors realized he had only 20% hearing. Not long after, he was fitted for his first hearing aids, but wouldn't start speaking until he was five
years old.
Uncomfortable in a classroom setting, he was homeschooled, with his first memories of learning through a set of flash cards.
It was his parents who noticed his keen sense of rhythm. After playing on his cousin's drum set, the sticks never left his hands. He started drumming when he was eight
years old and by the time he was 12, his affinity for game development also took the stage.
"I found a way to combine what I love into one source, doing all of my own programming, graphics, music and art in my games," he said. "Drumming is a talent that helps me learn other things and carries over so I can combine my skills."
McDowell studied privately, for many years under well-known Syracuse-area percussionist Jimmy Johns. As a young teen, his abilities continued to develop as he performed as assistant percussionist, under Johns, in two of Syracuse Stage's big productions. He also was a drummer for "RENT" at the Catherine Cummings Theatre in Hamilton, New York.
He began self-teaching when he was 17, watching YouTube tutorials. As his skills progressed, he opened up avenues to share them with others, including teaching
drumming workshops.
Throughout his career, McDowell has been inspired by famous percussionists including jazz drummer Buddy Rich (considered one of the most influential drummers of all time), who motivated him to perform drum solos, as well as Mike Mangini (drummer for the progressive metal band, Dream Theater), whose videos helped him perfect his one-handed drum roll.
"The people I've met have inspired me to better myself," McDowell said. "And my parents have been there every step of the way to encourage me to go after my dreams."