Noah Greger '18 knew one thing growing up — he loved cars. He had a knack for mechanics, rebuilding engines and fixing motors long before he was old enough to be in the driver's seat.
The first spark was his longing to restore a rundown Datsun sitting in a neighbor's yard, in his Danbury, Connecticut hometown, and later fixing the engine on the ATV his parents bought him when he was 11.
He expanded his skills working part-time in an auto body shop, banking money for a year to buy his first restoration project — a 1971 Oldsmobile Cutlass Supreme. His parents matched his contribution to restore the classic with new brakes and a brake line, repairs he learned through YouTube tutorials. He was only 13.
It was a high school job working at Performance Imports, an elite European specialist shop for auto repair, car service and restoration and import sales, in Connecticut, where Greger found his love for wrenching. It steered him to SUNY Morrisville, where a comprehensive automotive education and hands-on learning further ignited his ambition and put him in the fast lane to become an entrepreneur.
Today, Greger is owner of his beloved hometown dealership, Performance Imports, an accomplishment SUNY Morrisville helped put within his reach.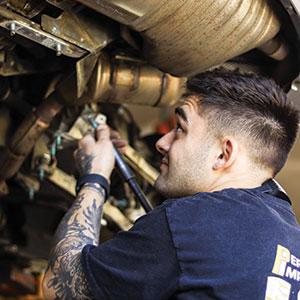 "I am living my dream," Greger said. "The support system behind me achieving this at my age is something words can't describe. I love what I do in its entirety and nothing will ever stop me from any goal I have in my head."
Passion is a driving force behind the 24-year-old's success. "I have always loved fixing cars and never felt being in this industry was work."
His career is a self-expression of that.
"What keeps me going is positive feedback from my customers and the fact that I love this industry," Greger said.
His abiding devotion and tireless work ethic helped pave the way to a rewarding career, now in overdrive, and earned him a solid reputation with his customers, some who travel a distance for his quality work.
Building a dream
Amid the daily sounds of car engines revving to life, Greger's customers get a sense of his love for the industry inside his shop.
There is a steady supply of broken cars awaiting him and his team's workmanship. All of their work involves European luxury performance cars, known for their powerful engines, superior speed, agility and overall driving experience.
Greger's automotive exhilaration was born working on custom rods with his father and nourished with abounding support from his parents. They gave him room to grow, sacrificing their two-stall garage for his prided high school restoration project — a 1966 Volkswagen Beetle, whose body and chassis he rebuilt, along with adding new seats, interior and a frame-off paint job.
His automotive passion accelerated to a new level when he enrolled in SUNY Morrisville's automotive technology - Ford ASSET (Automotive Student Service Educational Training) associate degree program.
"When considering college options, SUNY Morrisville topped my list," Greger said. "I was always looking for the best school. I looked all over the United States and Morrisville was one of the only programs that offered a four-year degree."
The program's reputation, hands-on approach, top-notch facilities with extensive labs, multiple degree options, including two bachelor's degrees and associate degrees in automotive technology and autobody, and highly accomplished faculty, set his gears in motion. Internships also factored into his choice.
A major component of a SUNY Morrisville automotive education is completing an internship. In the Ford ASSET program, students gain on-the-job training at a sponsoring Ford or Lincoln dealership while earning their degree.
"Gaining real-life work experience in the automotive industry, as an employee, gives students a competitive advantage," said Ray Grabowski, associate professor of automotive technology at SUNY Morrisville. "The majority of students are offered full-time positions during their internship experience."
Internships allow employers to tap into a talent pipeline to fill positions with skilled workers. They also lead to sponsorships, donations and scholarships for SUNY Morrisville's programs. 
By the time he graduated with his two-year degree, Greger was fully marketable with two internships under his belt and Ford certification, which is recognized by dealerships across the country.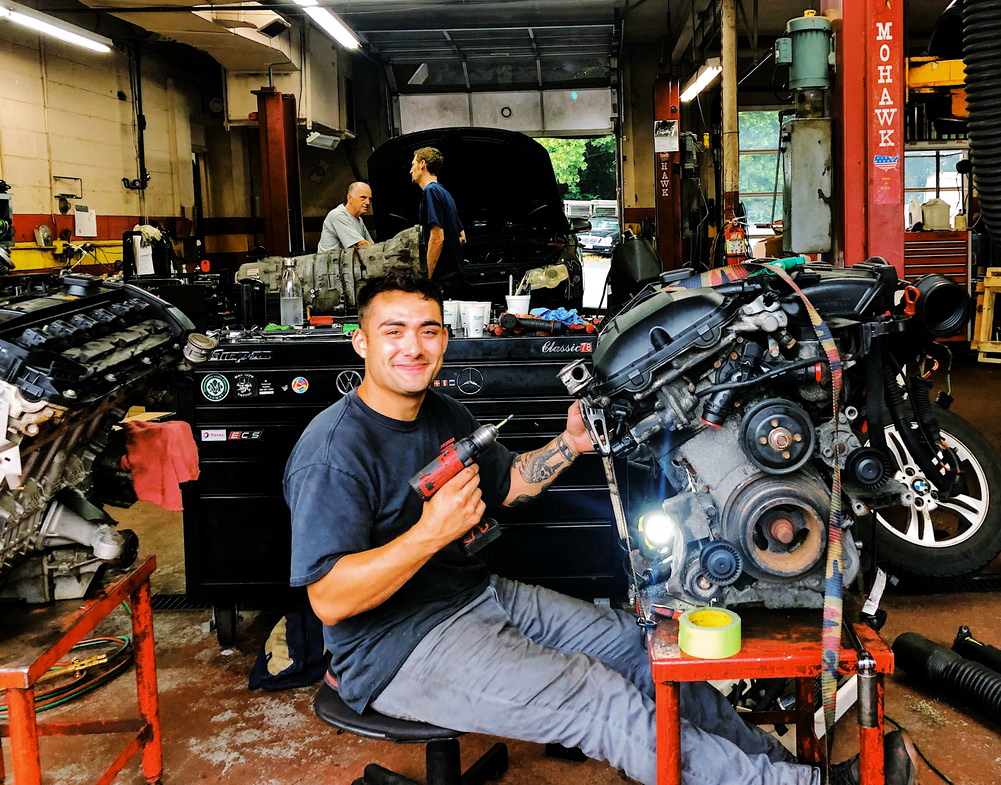 A quest for more knowledge led him to seamlessly transfer into the college's automotive management B.B.A. program.
"I wanted to know more about the business side — how to talk to people and communicate supportively," Greger said about his decision to earn his bachelor's degree. "I wanted to learn how to run my own business someday."
That ambition made him stand out as a student. 
"Noah's entrepreneurial spirit along with his diligent work ethic were evident and proved to be his strong traits at Morrisville," Grabowski said.
"Noah was always eager to dig into whatever the lab assignment was for each day," said Dan Akers, director of the Ford ASSET program. "He was always looking to gain his own one-hundred-and-ten-percent comprehension on the topic and I always enjoyed working with him."
SUNY Morrisville's B.B.A. program groomed Greger for every aspect of entrepreneurship. "I learned how to structure a shop and was able to use that knowledge right out of college," he said. "SUNY Morrisville gave me all of the skills I needed to be successful in the industry. There were opportunities everywhere after I graduated and I had so many credentials."
Professors, versed in many aspects of the industry, are role models who lead the way and guide students who spend much of their time doing hands-on work and learning through practical application.
An abundance of employers seeking grads speaks to the mosaic of possibilities that exist for SUNY Morrisville automotive graduates. 
It's a win for the industry, currently facing a shortage of skilled workers.
According to MarketSource, the United States is facing a "critical, ongoing shortage of auto technicians." It also estimates from 2020 to 2026, 16,500 shops would need 76,000 technicians just to keep up with demand.
To help address the severe shortage of auto technicians and provide quality career opportunities for New Yorkers, the Excelsior Automotive Technician Task Force was formed through the NYS Department of Motor Vehicles. Grabowski, a member of that task force, said its charge is to implement the most advanced, manufacturer-specific training possible, ensuring more New Yorkers have the skills and education to qualify for thousands of unfilled jobs in the industry.
SUNY Morrisville is certainly doing its part. 
"The industry is always on the hunt for new talent," Grabowski said. "We provide a rich pool of grads skilled to step into careers."
Partnerships with industry leaders such as Chrysler, Ford and Subaru support SUNY Morrisville's learning environment, allowing students to work with new technology and vehicles, and gain factory certifications, giving them an edge in the market.
Greger took advantage of all SUNY Morrisville had to offer, joining the Automotive Club, which hosts fall and spring car shows and participates at the annual Specialty Equipment Market Association (SEMA) automotive trade show. He also was a member of the men's lacrosse team, sharing in a North Eastern Athletic Conference (NEAC) championship. 
Top-notch facilities enhance automotive students' learning. A 50,000-square-foot state-of-the-art facility, filled with industry-standard labs, allows students to engage deeply and purposefully with their work.
Features include 26 lifts for diagnosis of drivability problems, auto body repair and refinishing, fuel systems, brakes, steering, suspensions, automatic transmissions and engines.
Looking back, Greger credits many with keeping the gears in motion on his journey.
I was always looking for the best school. I looked all over the United States and Morrisville was one of the only programs that offered a four-year degree.
Noah Greger
"I feel very blessed and fortunate to be where I am today," he said. "With the education I received from SUNY Morrisville, with the mentorship and help from family and friends, and the opportunity that former Performance Imports owners Michael and Joan Burg have given me, I can only say thank you to everyone for the help and support."
Michael Burg, an expert in the field of highline European automotive engineering, allowed Greger to grow in every aspect of the business, mentoring and priming him for a management position. "I worked on every aspect of the dealership from wrenching and ordering parts to running marketing campaigns and selling cars," Greger said. Joan Burg also taught him about management, filing and bookkeeping.
While working there during the COVID-19 pandemic, the Burgs decided to step away from the dealership.
When they called Greger to put him on unemployment, he asked if he could buy it. 
He reached out to his parents, who helped him with a bank loan, and reopened the shop three months later in July 2020.
"The decision of selling the business to Noah felt right," Joan Burg said. "We've always had confidence in him from when he first came to work sweeping the floors. He always went above and beyond of what he was asked."
Almost three years later, the business is thriving under his leadership. "Noah continues the legacy of Performance Imports, paying attention to quality and the highest industry standard with unbreakable customer trust," Michael Burg said. 
Fast forward to today. "I can't imagine myself doing anything else," Greger said of his thriving career.
Every day is a clean slate for new opportunities and the possibility of even greater rewards that come from taking something apart and making it new.
He tackles challenges the same way.
"Just about every vehicle is computerized and you have to be mindful and methodically think through problems," Greger said. "It's challenging to keep up with new motors and all of the new technology they are putting in cars."
Greger's future plans include growing the sales arm of the business and continuing to provide his customers with top-notch, friendly service. 
"Performance Imports has been a huge part of my life and I am proud to keep the legacy going," he said. "It's a passion and a pleasure to serve the community and I strive to do my best to produce the highest quality work."
His advice to those considering a similar career path — "Always be honest to people, have integrity and do the right thing and you'll be successful in anything you choose to do.
"If you want to know cars, come to SUNY Morrisville," Greger said. "It's about finding your passion and following your dreams to do what you love every day."
No doubt he has found his. He remains in contact with professors who gave him the tools and confidence to prosper.  
"I will always love Morrisville. I will always be a proud alumnus," Greger said.
According to the NYS Department of Motor Vehicles website, highly-skilled auto techs, known as "A Techs," can make more than $100,000, while "B Techs" and "C Techs" can also earn a quality salary well above the median income.