Wendy Groves can still remember that first day of drop off at the Children's Center on the SUNY Morrisville campus nearly 30 years ago.
Holding the hand of her 3-year-old daughter, Taylor, Groves walked down those shiny new halls wondering how her child would react to her new surroundings. And, as any new parent would be, she was a bit apprehensive about leaving Taylor in a new place for the first time as she returned to work as the administrative assistant in SUNY Morrisville's Office of Technology Services.
When Groves returned for pickup at day's end, her fear had turned into delight — Taylor wanted to stay and play.
"It was the best decision I ever made," Groves said. "It was such a wonderful resource and service to me and my family. It was wonderful knowing she was so close by and the children are in a safe, loving and nurturing educational environment."
Today, as Taylor (Massett) again walks those same halls with her two children, her mind is at ease knowing that they will receive that same high-quality care when she leaves for work each day.
"The Children's Center gives such a warm and welcoming feeling," said Massett '14, payroll assistant in the college's Office of Human Resources and a former intern and employee at the Center. "First and most importantly, I know my children are safe. The Center is filled with so many amazing teachers who care so much for the children and are also trained in First Aid and CPR.
"It is such an amazing community of people and I can honestly say we have built some great friendships with some of the families here."
Massett is one of many who now highlight the generations of families who have walked through the doors of the Children's Center at SUNY Morrisville, a licensed and nationally accredited, not-for-profit Early Care and Learning Center serving more than 80 local families and college faculty, staff and students alike.
The Children's Center provides care to children ages 6 weeks to 5 years old, as well as a before- and afterschool program for children in kindergarten through fifth grade in the Morrisville-Eaton Central School District. During the summer months, the school-age program also serves out-of-district families in need of care.
The Children's Center was the brainchild of former SUNY Morrisville president Frederick Woodward and his wife, Carol, who led the charge to provide childcare on campus. The task began in 1991 and carried out two years' worth of research to discover and confirm the need and demand for daycare within the local and college community.
It was wonderful knowing she was so close by and in a safe, loving and nurturing educational environment.
Wendy Groves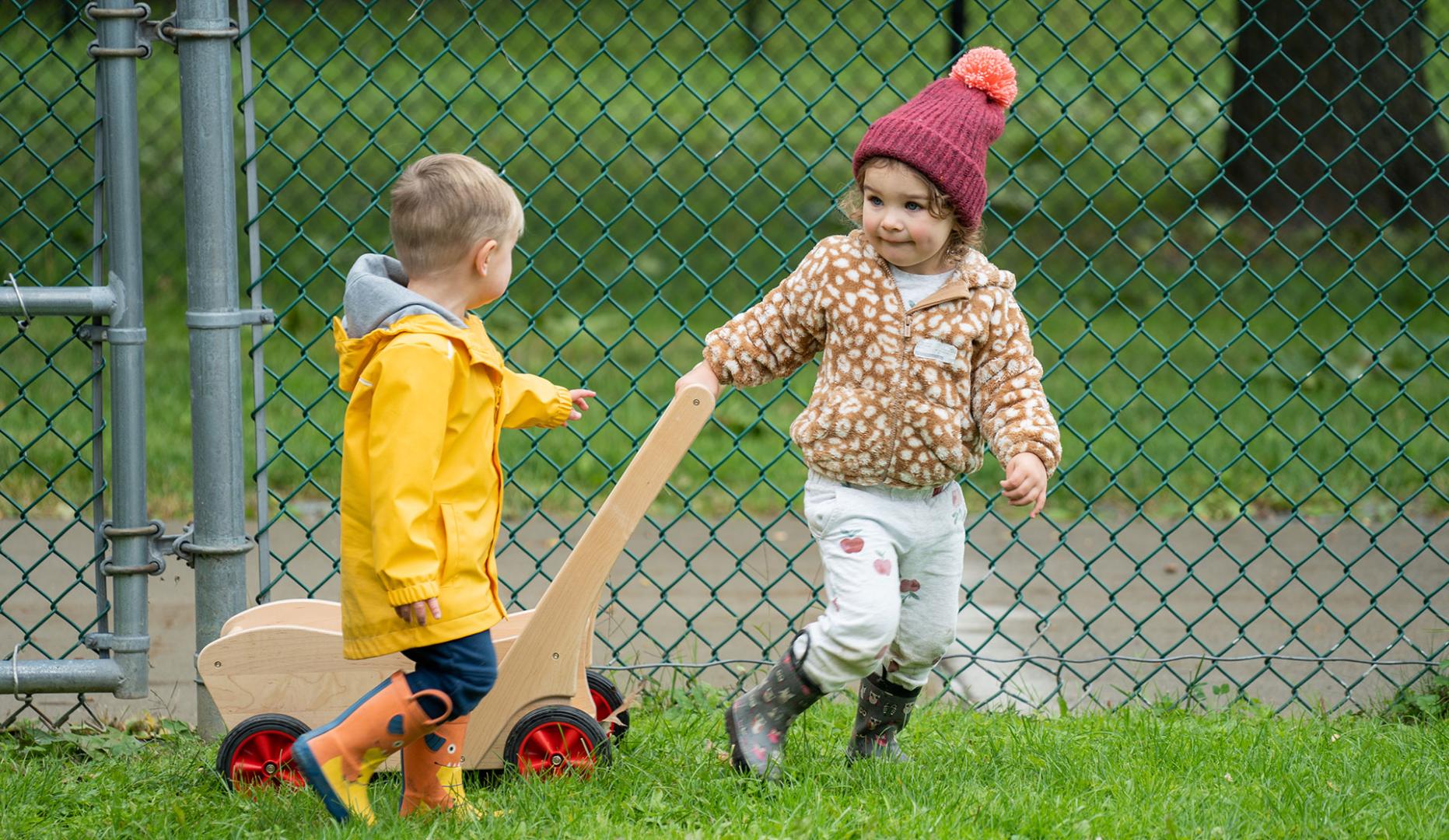 Those results helped garner funding through capital funds, fundraising and support from different state agencies, which secured a dedicated space within the college's Bailey Hall to house the facility. The Center broke ground in December 1993, officially opened its doors to the community in August 1994 and has since been operated by a director and governing board of directors.
Jennifer Britton, who joined the Center as a lead teacher in 1995 and has served as its director since 1998, is tasked with carrying out the Center's mission of providing a safe, comfortable space for children to learn, explore and grow.
"We have the nutrition component, the educational component, but most importantly we have the social-emotional component, where we're supporting the children's needs emotionally when they can't be with their parents, which is helping them develop that positive self-sense," Britton said.
This past spring, right around the same time New York State Gov. Kathy Hochul announced an initiative to expand and create high-quality childcare centers across all SUNY campuses to help eliminate childcare deserts, the Children's Center achieved its sixth reaccreditation process after successfully meeting more than 400 standards set by the National Association for the  Education of Young Children (NAEYC).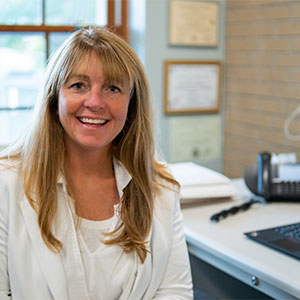 "We serve as a model program for other early care and education programs," Britton said. "As an accredited and licensed center, we're the only one in Madison, Oneida and Herkimer counties that holds a local and national certification."
The Center continues to be ahead of the curve, recently adopting a new app to help easily communicate with parents. Direct messages can be sent to and from staff, teachers can provide daily reports for each child, and photos from the classroom or events can be provided throughout the day.
It's yet another step in Britton's goal of helping every parent have the same level of comfort that she did when her three children attended the Center.
"Our program is providing quality, reliable care for families who need to go to work and attend school," she said. "It allows parents to focus on their work and school through the day and they know their child is being well-cared for. I want parents to really trust us and those relationships we build with them."
Brandy Thurston '95, whose two children attended the Center, can certainly vouch for that. Thurston credits the Center's dedication to health and wellness in helping her identify and obtain intervention for her first child's food sensory issues. That, in turn, led to her full confidence that the Center could navigate the challenges when her second child was diagnosed with severe food allergies.
"We are so incredibly grateful for each and every staff member of the Center," said Thurston, associate athletic director for compliance and sports information at Morrisville and also a current Center board member. "The comfort they provided to us in working with children that needed special attention for matters out of our control really established a level of confidence in our children — and us as parents, too — to carry with them in the future.
"What really struck me the most is the time they took to provide extra education to parents, other teachers and Center staff regarding food allergies and the challenges it has on children and families. We will forever be grateful for the impact they had on our family during the time there."
Our program is providing quality, reliable care for families who need to go to work and attend school.
Jennifer Britton
That genuine care extends to financial assistance. The Center helps inform families of various income-based grants they may be eligible for to assist with tuition. Morrisville students who have children in care also are notified of SUNY-funded grants available to them.
For students Jessica Matcham and Samantha Kimpel, the availability of the Children's Center and such funding were major factors in their ability to attend SUNY Morrisville.
"I was able to work full time, attend classes and not have to worry about my child being in the Children's Center," said Matcham, an instructional support assistant for the NYS University Police Department who will graduate this December with an associate degree in individual studies. "The staff is very kind and caring and have been a wonderful transition for my child into a preschool setting."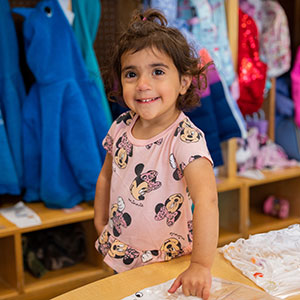 "I am a single parent in the last semester of my (business administration) associate degree. If it hadn't been for the Children's Center, I wouldn't have childcare and would not be able to attend or complete my degree," said Kimpel, who hopes to now continue on to pursue a business administration B.B.A. degree at Morrisville.
A common theme among families who attend the Children's Center is the bittersweet feeling when their children "graduate" out to their next level of education. Elisa Livengood, associate professor of environmental & natural resources at Morrisville, recently shared such sentiments through a Facebook post:
"To say it takes a village is an understatement. Maxine and I have been blessed to call the Morrisville Children's Center our home
away from home from the time she was six months to 5 years. Never once did I worry about her because I knew the teachers
loved and cared for her. She learned to be kind and so creative. We have been so lucky you have such a wonderful village helping us grow to a kindergartner."
A village of care and growth, found right in the heart of Morrisville.