Three pairs of siblings at SUNY Morrisville are bringing more than just their skill and abilities to the game — they bring their chemistry, the anticipation of the next move, the difference in balance that counters the other and the desire to make a difference in Mustang athletics.
Despite all spring- and fall-season athletics competitions being canceled this year due to the COVID-19 pandemic, the siblings shared their thoughts about being teammates.
Felix and Guillermo Rosario-Acosta
Football sophomore Felix Rosario-Acosta was unsurprised when brother Guillermo decided to join the Mustang sidelines.
"I knew he'd follow me," Felix said with a laugh. "He always does. But I also know that SUNY Morrisville provides the best opportunity for him and I'm excited to see what he can do for our program."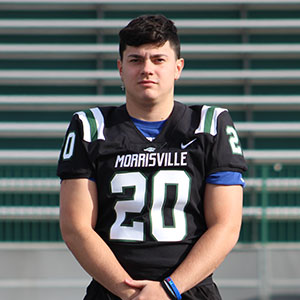 "I look up to Felix, and it feels amazing to rejoin him," Guillermo said. "Seeing what he was able to accomplish his first season last year gave me hope that I'd be able to have
a similar impact (on the team)."
The brothers left a lasting impression on the Indian River football program during high school, playing on opposite sides of the ball and excelling in their roles.
Felix, a standout linebacker for the state-ranked program, collected Section III first team accolades, All-North honors and was the recipient of the Indian River Athlete of the Year award his senior season.
Guillermo excelled on the opposite side of the ball as a running back, having a breakout season his junior year and rushing for more than 1,700 yards in each of his final two  years to earn All-Section accolades.
The brothers have competed in basketball and lacrosse together as well.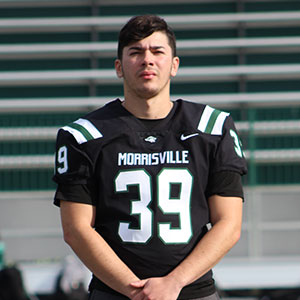 Despite subtle differences, the brothers admit they are quite similar, both majoring in human performance & health promotion while pursuing potential careers in physical  therapy or athletic training.
While they have had much success on their own, they both attribute their achievements on and off the field to their parents.
"Our dad saw something in us that we didn't see at the time," Felix said, describing how their father introduced them to a sport neither was interested in initially at 10 years old. "Our parents have always been there to support us in all we do."
After high school careers playing on different sides and different roles, playing together at SUNY Morrisville has made the Puerto Rico natives that much closer as brothers.
"The best thing now is being able to see each other more than normal, especially during this pandemic," Guillermo said.
Christopher and Connor Picciott
Brothers Christopher and Connor Picciott made their way to the Morrisville lacrosse field as attackmen.
Christopher joined the Mustang family in the fall of 2019. With the pandemic-forced cancellation of his first spring season, he will have the rare opportunity to play all four years of eligibility alongside his younger brother.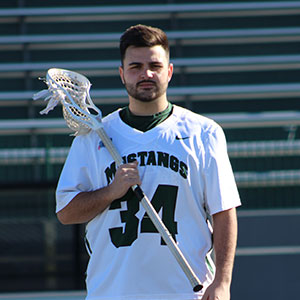 "I get an opportunity to play with Connor, to share with him something special as last season got cut short, and I am still looking to collect my first college win," Christopher said.
The brothers, separated in age by just one year, played four years together at Paul V. Moore High School in Central Square, New York.
Christopher found his way to SUNY Morrisville through his father, a graduate of the automotive program. Lacrosse is an added bonus for the sophomore who is making his own path in athletics.
Connor found SUNY Morrisville was the perfect pick as well.
"Part of my decision to attend SUNY Morrisville was having Chris here," Connor admitted. "But also, during the recruiting process, it was welcoming and made me feel like part of the program immediately, unlike other schools."
Both readily admit that they are competitive with each other – that often there's a competition in who will get the most points, with dinner sometimes including trash talk about who was better than the other.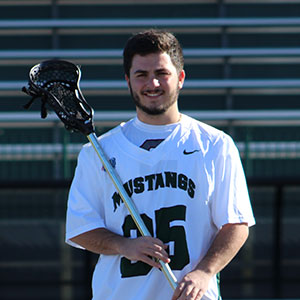 Connor, who claims that he usually lets Christopher win any sibling argument, said that playing with his brother makes the overall strategy a smooth operation. "Playing with Chris, I know his next move, where to go and we feed off one another," he said.
"I can rely on Connor to be where he needs to be," Christopher said. "In high school, we often were relied on because of our relationship and ability to read one another."
The spring was tough on the brothers who have only played lacrosse during their young careers. Connor admitted that, without his senior season in high school, the fire to play died a little until being able to rejoin his brother on the field.
"Chris motivates me," he said.
Their goal is to be the next attacking duo to grace the Mustang field.
The automotive management students are considering going into the family business with their father.
Aislinn and Lauren McGreal
"There's nothing better than a sister," said Aislinn and Lauren McGreal, sisters who play for the women's lacrosse team. Aislinn is a freshman and Lauren a sophomore.
Just two years apart in age, they have a bond that has carried them from the earliest of days when their parents forced them into sports together in first grade.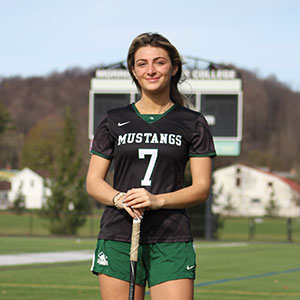 The pair started their athletic careers in gymnastics, moved on to figure skating, then found their way to two sports together for Pawling High in lacrosse and ice hockey, while maintaining their individual identities in soccer (Aislinn) and field hockey (Lauren).
Despite their bond as sisters, they are quite different and rely on one another to bring out the best in each other.
"I learned that during the time away from Aislinn I had to make myself better in my own way," Lauren said.
Being best friends is what makes their sister bond stronger than any other.
Lauren began her Mustang story in 2018 as a nursing major at SUNY Morrisville.
"I was often overlooked in high school," she said. "But coming here, I was able to put my own mark on the program even as a freshman, and I'm proud of what we've done as a team, even today during the pandemic."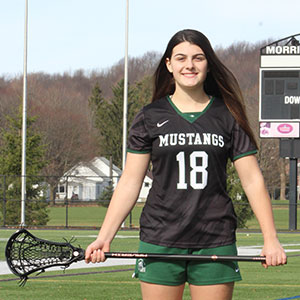 "I knew Aislinn would come here," Lauren continued. "We depend on each other."
Education played a big role in why Aislinn came to SUNY Morrisville to study equine science. "At the end of the day, it came down to what I wanted to major in, and being able to play lacrosse again with Lauren is an added bonus."
The chemistry the sisters have off the field has transpired into 'magic' on the field, both being able to play nearly any and all positions. "She's the calm in my game," Lauren said. "She is determined and likes to follow the rules."
"And Lauren is creative, she always adds some fancy move to whatever she is doing," Aislinn cut in.
Being at Morrisville together has strengthened their bond. "I'm happy she's here, she brings out the best in me," Lauren said.
"It's nice. I'm excited to see what happens," Aislinn said. "I rely on her."