Brian Simmons' aunt offered him a job washing dishes on a Friday night when her restaurant in Nunda, New York, was short-staffed. "The rest is history," he said.
Since that day more than two decades ago, Simmons '01 has built a successful career out of nourishing patrons as owner and chef of The Yard of Ale Restaurant.
The casual-fine dining restaurant, located in Piffard, New York, the western Finger Lakes region, offers a diverse dinner menu, as well as a featured menu each week, showcasing specialty and seasonal ingredients prepared by Simmons.
Simmons honed his culinary skills in SUNY Morrisville's restaurant management program while working at the Yard of Ale on weekends and during breaks, serving as a chef there for seven years before purchasing it in 2007.
"It was the natural next step in my career. The ability to establish my own family-run restaurant always appealed to me," Simmons said. His restaurant is a 19th century canal house decorated with vintage photographs of prominent locals and buildings — and the place where he would later meet and marry his wife, Liz.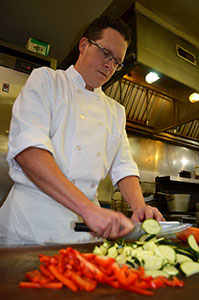 The Yard of Ale was just coming off of its most successful year and had started even better in 2020 when the COVID-19 pandemic turned everything upside down.
The restaurant closed its doors for one day, March 17, while Simmons and staff quickly devised a plan for takeout food the next evening.
"We immediately scaled everything back. We shrank our menu to favorites and items we could get out quickly and would travel well to-go," Simmons said. "We never did much takeout prior to COVID, so there was a huge learning curve for us."
His inventiveness went into overdrive.
"We quickly found out that people were still looking for great food while they were quarantined, maybe even more than before, since no one was going anywhere," Simmons said. "So dishes like lamb and octopus and great steaks were selling as well as they ever had."
They started a takeout "beef on weck" special (roast beef on a kummelweck roll) on Wednesdays, which sold out nearly every week, and served a Nashville hot chicken sandwich on Sundays that took off immediately with similar results. Not wanting to lose the momentum they had built the last couple years, they started posting daily specials on social media and provided a weekly updated menu to attract patrons.
Forced to scale back staff to only four during quarantine, Simmons took orders during the day, made to-go salads and greeted people as they came to pick up food.
"The unforeseen benefit from all of this was that I was able to connect with customers I normally don't see while cooking in the kitchen every night," he said. "I got a lot of pleasure seeing their faces and talking with them."
Customers continued to support the restaurant, ordering takeout through the quarantine and requesting their favorites.
An innovative menu and slow-roasted Angus beef prime rib (which Simmons argues is the best in Western New York) make the charming restaurant built on a passage to the Erie Canal a favorite stop for locals and patrons who travel from as far as Buffalo and Rochester.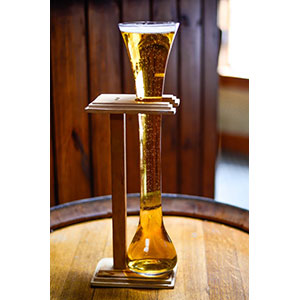 Its appeal also includes a warm, cozy atmosphere with historic period renovations made by a local craftsman to the 160-year-old building
"We do everything we can to make our customers' experience a great one," Simmons said. Much of that he attributes to a hardworking and loyal staff.
It was clear while he was a student at SUNY Morrisville that Simmons had the zest to go far in the industry. "He had a passion to be in the kitchen and always came to class and labs prepared," said Kerry Beadle, associate professor of business & hospitality. "He wanted to try new things and had a desire to continually learn."
Morrisville provided Simmons with different skills for running a restaurant from cooking to finances.
"A friend told me about all of the different things culinary students were learning and it really sparked my interest," Simmons said.
He took in all he could at Morrisville while working at The Yard of Ale — on weekends as needed, holidays, summer breaks full-time and every chance he could.
"I loved to learn. I loved working long days and I always fed off of pleasing people (staff and customers alike)," Simmons said.
Morrisville made him realize that he could turn his passion into a career.
"Professor Kerry Beadle was someone I aspired to be like as I grew. He was smart, kind, loved what he did and I always thought from early on that is how I want to be as I grow in the business."
Simmons started when the Food Network was just taking off and consumed as much Bobby Flay and Ming Tsai as he could, taking notes on dishes the well-known chefs  eere cooking and applying them at work.
"I also began to collect cookbooks and teach myself as many different recipes and techniques as possible. Bobby Flay, Thomas Keller and Marcella Hazan were some of my go-tos," he said.
Simmons' large appetite to try new things is evident in his menu, which rotates with products of the seasons. His innovative food presentations include lobster corn dogs, bison meatballs, lemon-garlic grilled octopus, and prosciutto-wrapped, blue-cheese-stuffed figs with their own honey drizzle from a beekeeping venture they started eight years ago.
"I love the pace, the constant change and learning to adapt with it," Simmons said about the restaurant business. "I love food and I love to cook. Nourishing people is a gift I've been blessed with."
Sourcing locally is another feather in his cap. Simmons serves New York State beer and craft beer from the nearby Dublin Corners Farm Brewery and buys the majority of summer produce from a local farm stand.
A friend told me about all of the different things culinary students were learning and it really sparked my interest.
Brian Simmons
Through the years, loyal customers have never let him down, especially when The Yard of Ale reopened for dining in June. The main dining room, divided into nooks, has worked to their advantage following COVID restrictions. Reservations are encouraged for dining, as well as for hosting showers and other events. The restaurant follows all COVID guidelines, including wearing masks and physically distancing.
"People were extremely excited to come back as were we to see them," Simmons said about reopening. "We are so grateful for the love and support of our community. After three months of putting food into to-go boxes, it felt amazing to put food on plates again."