Rebecca Werbela '04 started an agriculture education program at Morrisville-Eaton Middle-High School in a small room with big plans.
As they grew, so did the excitement of her students who are grabbing hold of dynamic lessons — getting their hands dirty building and planting, growing vegetables hydroponically and gaining an understanding about the hundreds of careers available to them in the agriculture industry.
"There is a heightened level of excitement where Rebecca has built energy into our program," said Gregory Molloy, superintendent of Morrisville-Eaton Central Schools (MECS), in Morrisville, New York. "We are a small school that doesn't have a lot of electives, but there are so many opportunities students are taking advantage of because of her."
Werbela's infectious energy and genuine love for all things agriculture has gone beyond the classroom, spreading widely into the community through her outreach with leadership organizations and volunteer efforts.
"I have so much vision and I push for ag education anyway I can," Werbela said.
She credits SUNY Morrisville with helping her develop lucrative skills, a can-do attitude and a solid work ethic.
"I would not be where I am today without my Morrisville degree and experience," she said. Her resilience shined when the pandemic halted in-person teaching at MECS and the district switched to remote learning.
"I took it in stride," Werbela said. "Everything in the ag industry is always changing with animals, plants and buildings. You adapt and learn to evolve with it. Students jumped on phones and computers and we did not miss a beat."
Werbela's persistence and enthusiasm are notable traits. When it comes to agriculture and partnering with the community to promote it, she is always eagerly on board.
On a sunny day in November, Werbela and her students teamed up with SUNY Morrisville faculty member Adam Olinski to build four raised garden beds at Morrisville-Eaton Middle-High School. In the spring, Olinski and his horticulture students will return to teach them how to start seeds, and germinate and plant crops in the raised beds.
"This is one of the many ways we are helping to promote agriculture in our local school community," Olinski said. "Rebecca and her students' excitement toward the project is outstanding."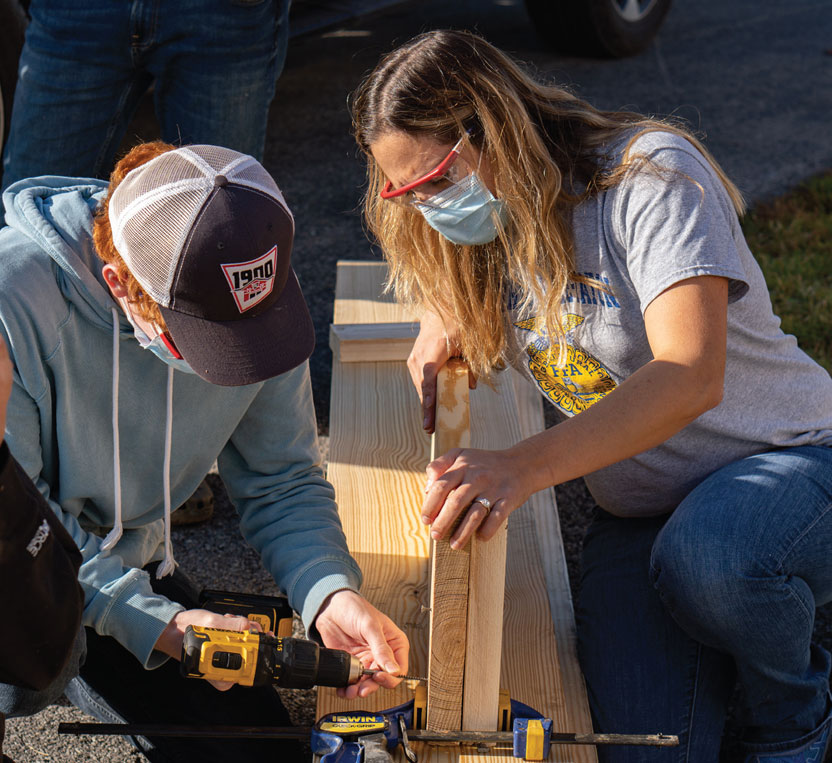 "I love partnering with the college," said Werbela, who teaches courses in animal science, natural resources and everything in-between. "It is a chance for me to show students exploring careers and secondary education what is available to them."
"The collaboration with SUNY Morrisville is essential for our students," said Eddie Waskiewicz, principal at the Morrisville-Eaton Middle-High School. "To have the students involved in meaningful programs is huge."
Werbela works tirelessly to incorporate different aspects of agriculture into her classroom.
The fruits of her labor are visible in the school's agriculture room and attached greenhouse. A three-tiered grow cart supplies the cafeteria with fresh herbs and greens. Tomatoes grow without soil in a hydroponic garden, a project in a collaboration with Elisa Livengood, assistant professor in SUNY Morrisville's aquatic science & aquaculture program. Livengood also plans to help students start a classroom tank to raise fingerling brown trout.
Plans are in the making for a schoolyard sap house in 2022, as well as a small schools-based community-supported agriculture (CSA) program, which allows consumers to buy a share of a harvest on a farm.
To students like Kyle Pearsall, a senior at MECS, Werbela's lessons are helping to shape his future.
As he considers SUNY Morrisville an option for conservation science or biology, he's enjoying the hands-on collaborations. "I am seeing first-hand all that the college has to offer and it is a great experience for me."
Among his favorites was working with Brendan Kelly, associate professor of forestry and renewable resources, and his students. Kelly, a Certified Forester through the Society of American Foresters, had his silviculture students mark trees based on criteria and Werbela's students tapped the designated trees for maple sap to produce maple syrup. Werbela hopes to take that teamwork to a new level with a maple syrup program at her school.
"The partnerships with the college have opened up limitless opportunities for our kids," Molloy said. "In the middle of a pandemic, we are teaching these meaningful lessons for our students to give back to the community."
Teaching was not the first choice for Werbela, an equine bachelor's degree graduate who spent many years in the equine jumper circuit as a professional horse show groom and planned a career training horses.
But a job as a barn manager and adjunct professor at Cazenovia College gave her a taste of teaching that seasoned her fondness for the classroom.
More doors opened when Werbela was asked to help get MECS's FFA chapter off of the ground as advisor. She took a special interest in teaching students about the opportunities available to them that go beyond farming. She liked it so much, she stayed on as their teacher, too.
She credits SUNY Morrisville with nourishing her career.
"Every course I took prepared me for everything I am doing now," Werbela said. She broadened her skills through a summer job on the college farm where she learned how to brush hog and drive a tractor.
Intrinsic in her work is giving back to the community.
Werbela played an integral role in planning SUNY Morrisville's five successful dairy drive-thru events, which involved the distribution of thousands of dairy products to community members in need at a critical time during the COVID-19 pandemic.
"Becca's committed to the success of her students and to agriculture as a whole, and we're lucky to have someone like her here in Morrisville," said Ashley Marshall, assistant professor of dairy science at SUNY Morrisville, who worked with Werbela at the college's dairy drives. "It's exciting to be able to partner with MECS and this is mainly due to Becca and her drive to open as many doors as possible for her students."
Through her role as FFA advisor, Werbela's students won a New York State Ag in the Classroom Award in 2019 with local maple partner David Orth and the Orth Farm. Her efforts include working with the Madison County Farm Bureau, where she served as a board member and as the equine chair for the past six years, as well as helping with events that raised money for the Food Bank of CNY, Madison County Youth Agriculture and Cornell Cooperative Extension programs.
The future holds much more for Werbela and the community.
"The sky is the limit," Werbela said. "I want to make a mark on this community. I want my students to see how valuable their education is and I want to be able to give them a glimpse into the more than 300 careers agriculture education has to offer."
I love partnering with the college. It is a chance for me to show students exploring careers and secondary education what is available to them.
Rebecca Werbela
Dairy drive-thru
Werbela was in the middle of the action of five successful dairy drive-thrus at SUNY Morrisville, where thousands of items were distributed to the Morrisville and surrounding communities at a critical time during the COVID-19 pandemic.
"We wanted to do something to help those in the community during these difficult times," said Ashley Marshall, SUNY Morrisville assistant professor of dairy science, who spearheaded the effort along with Morrisville-Eaton Central School and the Morrisville Auxiliary Corporation, including Nelson Farms. "Not only did this help those in need in our community, but it also helped the struggling dairy industry since the demand on dairy products dropped dramatically due to the COVID-19 pandemic."
Despite inclement weather and each of them being in their eighth month of pregnancy, nothing stopped Werbela or Marshall from running and participating in the drive-thru events, which served more than 2,600 vehicles.
Dairy drive-thru tallies
Milk – 5,700 gallons
String cheese – 192 cases (2,304 packages/27,648 cheese sticks)
Cheese curd – 1,600 containers
Block cheese –1,750 pounds
Chobani yogurt – 5 truckloads
Eggs – 1,400 dozen
Butter – 1,734 pounds
Sour cream – 2 tons