Ernesto Mitchell '23 went from chasing a dream to having a dream college career.
Mitchell, who graduated this May with a degree in criminal justice, wrapped up his collegiate playing career as one of the most decorated student-athletes in the history of the Mustang football program.
Through hard work and a relentless drive, see how Mitchell has tackled everything in his path since arriving at SUNY Morrisville, as told by Brandy Thurston '95, Associate Athletic Director for Compliance & Sports Information.
There isn't a time Ernesto Mitchell can remember that he wasn't around the game of football, growing up the youngest of three siblings with a father and older brother who were involved in the game he loves. From the time he was three, the Wheatley Heights, New York native, begged to be on the sidelines as he watched his older brother play.
Mitchell would find his moment to shine on the field, becoming an all-star running back and linebacker for Half Hollow Hills High School East. It was only fitting that he carried his talents to the collegiate field, but no one — outside of Mitchell himself — could have predicted that he would become one of the most-decorated defensive players to see the field for the Mustangs.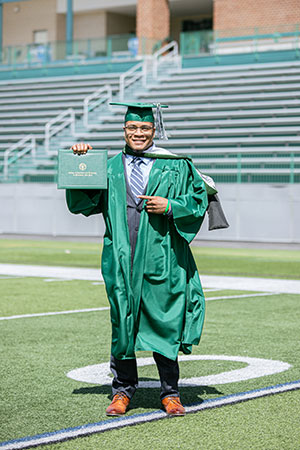 It all began with his campus visit, where he met with now-head coach Ed Raby.
"From the get-go, the atmosphere was what I was looking for," Mitchell said. "It was welcoming and I felt like part of the Mustang family from the very first visit – the facilities were outstanding, and the staff were exceptional.
"Growing up all you heard about was a future playing Division I or nothing at all, SUNY Morrisville and Coach Raby gave me the opportunity to chase my dream, to grow and be alongside a newfound family."
Mitchell vividly recalls a moment from his freshman season that defined him as a player, a person and teammate, and it was one that came off the field.
"I had a teammate whose cousin had passed away – they were ready to leave football and college all together and I felt like I needed to talk to them," he said. "I told them that life is more than just football – they have an impact on others around them, they play a role at Morrisville. Everyone has that moment where they feel like leaving; don't do something you're going to regret later on."
Coach took notice. "He displayed all the attributes of being a leader, and is naturally a guy that takes control of the room," Raby said. "A lot of individuals across campus and within the football program view him as the heart and soul."
Growing up, Mitchell drew his inspiration and motivation from family, and today, continues to be that person who others admire and look up to as a role model.
"You can't give anything less than 100% of what you have. You have to give it all you got," he said.
That mentality led to a stellar career on and off the football gridiron. It also landed Mitchell the prestigious honor of being selected by his teammates to serve as team captain his junior and senior seasons.
"You can't take on a captain role without leading by example and giving your all in everything you do – if you do that, you don't have to worry about those next to you, because they will be doing the same," he said.
Mitchell, a three-time Empire 8 All-Conference selection, had a magical senior season, being named the 2022 Defensive Player of the Year before becoming the first-ever Mustang on the defensive side of the ball to earn D3football.com All-America accolades. A selection to the Podyum All-Star Bowl, an elite collegiate all-star game held annually in Miami, also gave him one last opportunity to show off his Mustang Pride.
"The All-Star game meant everything to me," Mitchell said. "To be able to represent one more time, to put Morrisville out there and let everyone know what it is, it was special to me."
To Raby, it meant just as much. "I'm so proud of Ernesto. He really is amazing and a great representation of our program. He is so humble, he deserves all the credit in the world."
Mitchell also excelled off the field, being named to the 2022 Empire 8 President's List, one of the most prestigious honors the conference recognizes for academic and athletic excellence.
"I am excited for what Ernesto does with the rest of his life," Raby said. "Football and his education at SUNY Morrisville have prepared him. He is ready for the real world and I know that with his personality, he will be giving his best in whatever he does."
He also landed an internship with the Oneida City Courts, where he found a love within the court system and will be pursuing a career in a similar field.
"Morrisville is a special place," he said. "My advice in anything you do — give it 100%, nothing less."
An extended version of this story can be found at morrisvillemustangs.com.