The room went silent as this year's Global Game Jam® (GGJ) theme, "What Home Means to You," was unveiled.
And with that, James Cook and his teammates sequestered themselves in a classroom at SUNY Morrisville, serving as a host site, and spent the next 48 hours in imaginative indulgence and intensive programming, creating a video game from scratch.
Four SUNY Morrisville teams joined 47,000 other jammers during this year's 2019 GGJ, a hackathon-style event, in which participants worldwide collaborate to design functional video or board games in a weekend, to the same theme.
Teams from places like Turkey, Argentina, Norway, Germany, Egypt and Pakistan took part in the event, recognized as the largest in the world by the Guinness Book of World Records.
Growth in the area is clear as SUNY Morrisville celebrated its 10th anniversary as a GGJ host site and recently added a minor in game programming.
The boon in the billion-dollar video gaming industry made way for the college's new minor, which has increased in popularity since Dr. Richard Marcoux, associate professor in the Computer Information Technology (CIT) Department, seeded four elective courses in his curriculum years ago.
"The gaming industry is larger than the movie industry and it continues to grow," Marcoux said as participants nodded in support of his plan to add a game programming major by 2020 fall semester.  
Cook, an information technology – application software development bachelor's degree major, was among the first to sign up for the new minor, which is open to students in any bachelor's degree program who have an interest in creating software for 2D, 3D and virtual reality (VR) video games. Courses cover game design concepts, user interface design, and software development of video games.
"Creating video games is something that allows me to take advantage of my talents and many of the things I like to do," said the Oneida, New York resident, who traces his lifelong gaming passion to Nintendo cartridge games.
Creating video games is something that allows me to take advantage of my talents and many of the things I like to do.
There have been so many changes since then — the rise in mobile gaming with smartphones, high-speed data and technological complexity — with Cook eagerly embracing all of them.
Game Jam gave him a firsthand look at what goes into creating a game and a chance to sharpen his skills.   
Throughout the weekend, participants got a dose of computer coding, animation, design and dubbing background music — all tools needed to create a video game in an industry growing by leaps and bounds.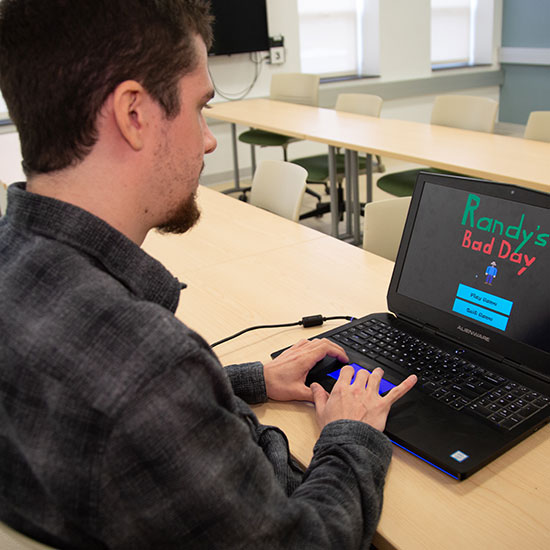 Jam Time
Infectious energy and creativity filled classrooms at SUNY Morrisville's jam site in Charlton Hall, as story boards and strategies unfolded on white boards, programmers took to their keyboards to create the code that makes the game run, and artists and musicians devised compelling aesthetics.
Cook's team of four classmates masterminded an adventure-based video game, "Randy Has a Bad Day," in which their main character (Randy) must choose between multiple paths as he tries to get home. Cook focused on coding, while fellow teammate Benjamin Robbins, a computer information systems major, worked on graphics. 
They relied on skills from an Introduction to Game Development course, taught by Marcoux, where they learned the core mechanics of making a game as they prime for an industry that is home to diverse job opportunities, creative work environments and high starting salaries.
Through Morrisville's CIT programs, students are already gaining a breadth of skills that qualify them for careers in programming, network administration, help desk, cybersecurity, web development, application software development and game programming, to name a few.
"Companies are looking for graduates with skills," Marcoux said. "Their skills are in high demand."
Events like GGJ are adding to their arsenal, allowing them to take their passion to a greater level and to birth new ideas.
This year was Tyler McDowell's eighth participating in GGJ. The 2015 information technology – application software development graduate was doing a little bit of everything for his team, including programming and adding music and graphics. McDowell, a program analyst at PAR Technology in New Hartford, New York, attends the jam to network with students and alumni, and to hone his skills.  
"It's a great opportunity to experience working as a team," he said.
That was a lure for Cook, too. "This (GGJ) experience will definitely help me in the future," he said.  "Every company has to collaborate to write pieces of code to make an effective product."  
For Brendan York, a current information technology – application software development major eyeing a career in creating video games, versatility of the new minor is a draw.
"I learn by experimenting and exploring, and this minor is allowing me to do that," said York, of Hamilton, New York. "The flexibility enables me to get the creative juices flowing.
"And everything I am doing in class is similar to what is being done in the industry," he added.  
Even for students who do not end up in the gaming world, the skills they learn prepare them for a variety of programming opportunities.
"Regardless of the degree, they will have a job in the end," Marcoux said.
Kobey Proulx lauds SUNY Morrisville's computer programs overall. "They give you a chance to explore so many fields. If you decide you don't like one, you can fall back on so many other things," he said. It was the computer information technology student's first year participating in GGJ.
"You are prepared to do a lot of different things," said GGJ participant Courtney Mooney, a 2018 information technology – web development graduate who works as a help desk technician at Northeast Regional Information Center in Albany, New York. "It has opened a lot of doors for me."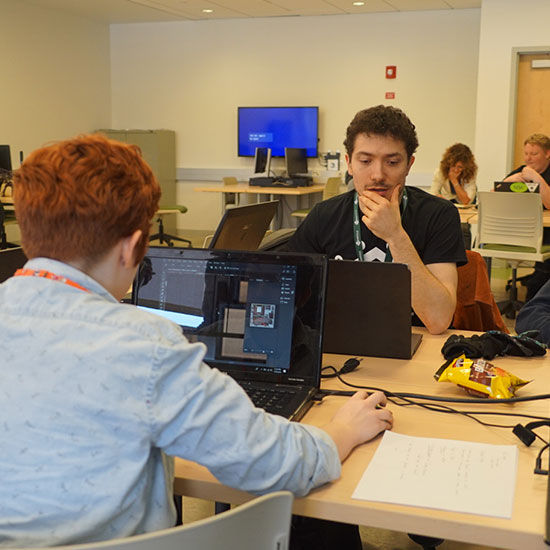 Match Game
In celebration of SUNY Morrisville's 10th anniversary serving as a Global Game Jam® site, Richard Marcoux set a $1,000 matching gift challenge to CIT alumni, in which he would match dollar-for-dollar any gift made to the CIT program, up to $1,000, during the month of January.
CIT alumni rose to the challenge, surpassing it with gifts of more than $1,700, taking in a total of more than $2,800 for the program.