Justin Redivivo didn't set out to work in the agriculture field. He grew up in Canada, completed high school there and came to the United States to join his family and seek employment. He worked at Foxwoods Resorts Casino in Connecticut and attended college briefly to study hospitality. "College wasn't my thing,'' he said. He later joined his father on staff at Turning Stone Resort Casino in Vernon, New York, starting out in restaurants before moving on to entertainment, gaming and event positions.
"I always thought I would want to follow in my dad's footsteps and work in the hospitality and casino business,'' said Redivivo, 29. "Agriculture was nowhere in any of my plans.''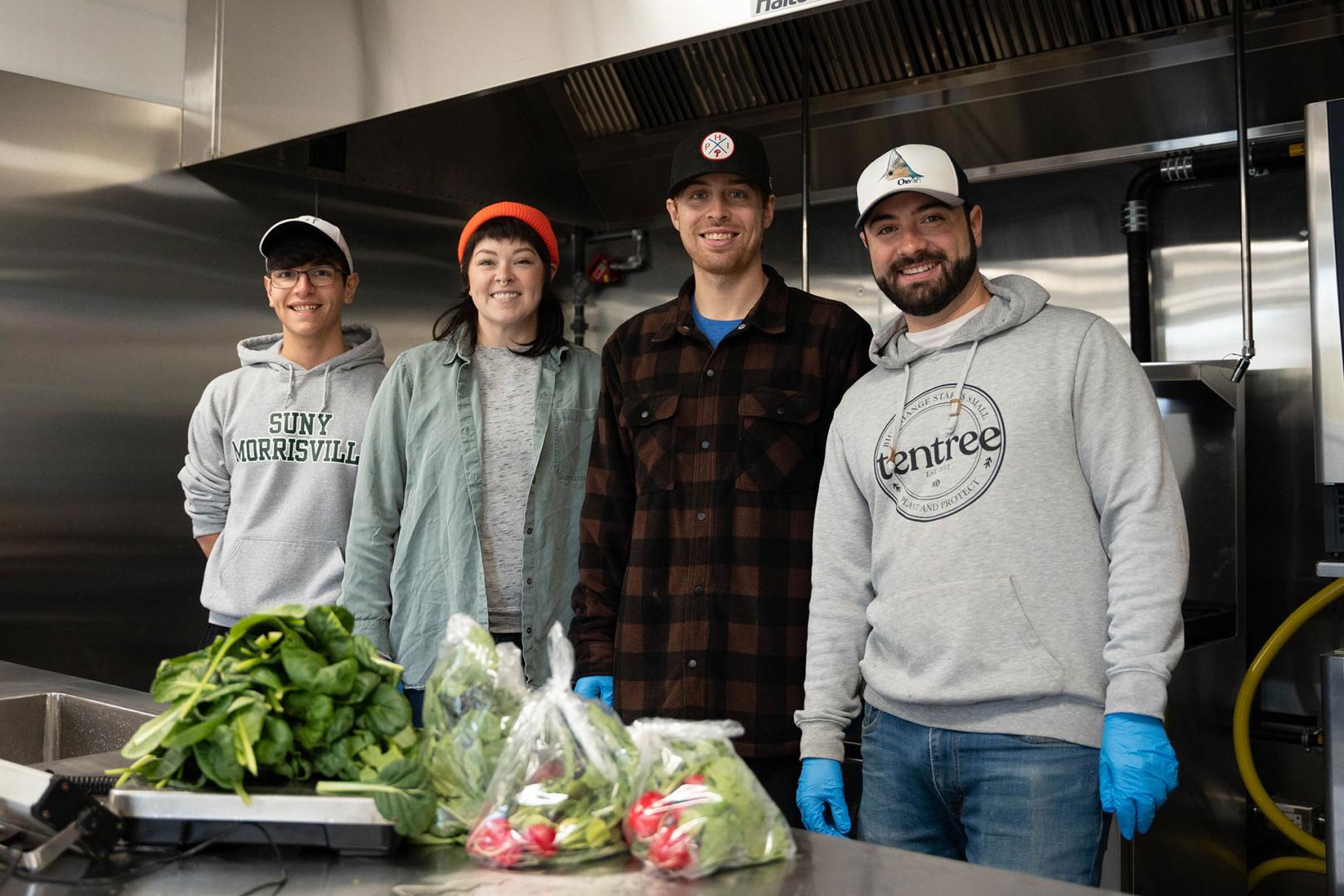 When the coronavirus pandemic hit and shuttered Turning Stone for several months, Redivivo took some time for self-reflection. He knew he was interested in sustainable agriculture and zero-waste living. A friend suggested he check out SUNY Morrisville and its horticulture offerings. After a tour and meetings with several faculty members, he decided to "pull the trigger'' and start cultivating his future.
The cannabis program drew him in, but Redivivo soon found himself interested in many plants. He was taking classes in business and in aquaculture, and, like many of his classmates, he was spending lots of hands-on time at the Four Seasons Organic Farm. He spent a summer as a farmhand on the one-acre crop farm and got a taste of everything from tilling the land to planting seedlings to harvesting crops and recording data.
"At Morrisville, you get right in the dirt,'' said Redivivo, who graduated in May with an associate degree in horticulture production and a certification in specialty crops & cannabis production. "You really learn everything, from seed to harvest. It's nonstop and full of surprises. It has shown me so many things I never would have learned on my own.''
Redivivo is already reaping rewards from his studies and experiences on the farm: The day after graduation, he started a job as an assistant grower with Green Empire Farms in Oneida, New York. The Canadian-owned company grows hydroponic tomatoes and strawberries and other produce, many under the Sunset label.
The Four Seasons Organic Farm is a cornerstone of SUNY Morrisville's Horticulture Department. The farm, established in 2011, earned its USDA organic certification in 2016. It's an essential, out-of-the-classroom experience that supplies students with roll-up-your-sleeves and get-your-hands-dirty learning through year-round crop production.
The farm lives up to its name: It produces dozens of varieties of vegetables and fruits (and plants) year-round. Spring brings lettuces, arugula and other leafy greens, plus peas and beets, all planted in a high tunnel in the chill of winter. Summer delivers a progression of warm-weather crops, like beans, zucchini, tomatoes, eggplant, corn and cucumbers. Fall brings pumpkins, squashes and other winter vegetables.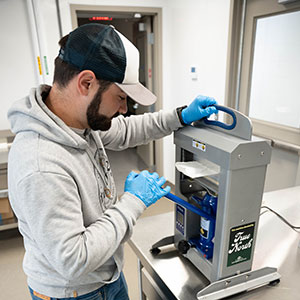 As the fall semester winds down, students give multiple varieties of poinsettias tender loving care and design evergreen wreaths, which they sell on campus and at the Central New York Regional Market in Syracuse, New York.
"We like to think we offer a well-rounded horticulture experience,'' said Kelly Hennigan, associate professor of horticulture. "Everything is connected. The seasons flow into each other.''
Even in the dead of winter, the farm is a green, living laboratory. In February, Instructional Support Assistant Jonathan Jankowski and a crew of students harvested more than 13 pounds of spinach they planted at the start of the spring semester and supplied to Seneca Dining Hall and the Copper Turret restaurant, a partner of the college.
"That was exciting,'' said Jankowski, who manages the farm and supervises the students who work on it. "The high tunnels really give us a head start on the growing season.''
Jankowski '22 said the farm gives students a taste of everything from the ground up: seeding, transplanting, weeding, watering, pest management — and teaches them things like patience and problem solving.
The farm annually produces about 5,700 pounds of produce, most of which is supplied to campus dining halls. The remainder is sold at a student-run farm stand and donated to Morrisville-area nonprofits, including the Morrisville Food Pantry.
In the summer, it's not unusual to find a box of free produce from the farm on a bench outside the Morrisville Post Office. The farm also supplies the goods for an on-campus CSA (community-supported agriculture) subscription program for faculty and staff.
But there's more to the farm than planting and harvesting. The brand new Four Seasons Farm Dairy and Specialty Crops Incubator, a collaboration between the departments of ag science, dairy, horticulture and ag business, is equipped with storage space and a commercial kitchen outfitted with stoves, coolers and freezers. The facility will allow students and faculty to take on "value-added'' projects that capitalize on the growing season, such as packaging salad greens, freezing and canning vegetables and developing new products.
"We've never really had a way to package and handle produce,'' Hennigan said. "The facility will provide all kinds of experiences for students, from seed to sale.''
Madison Marsh, 20, of West Edmeston, New York, who will graduate in 2024 with a bachelor's degree in horticulture business management, has blossomed during her time on campus and at the Four Seasons Organic Farm.
She grew up watching her grandmother nurture her perennial gardens and eventually developed her own green thumb working for a couple local florists. She wasn't sure what she wanted to do when she graduated from high school and then COVID-19 hit. While home with her father during the pandemic and looking for things to keep busy, they built a greenhouse and established a couple flower gardens. "That was really the time I found out what I wanted to do,'' Marsh said. "I was able to focus without being interrupted.''
Marsh visited SUNY Morrisville and was impressed with the greenhouse (at Spader Hall) and the organic farm. When she's not in a classroom, she's in the greenhouse tending vegetable seedlings, houseplants and hanging baskets. When the weather permits, she's outside at the Four Seasons Organic Farm, where many classes are held when the season gets busy.
We've never really had a way to package and handle produce, the facility will provide all kinds of experiences for students, from seed to sale.
Kelly Hennigan
Everything Marsh learns in the greenhouse and on the farm is applicable to her fledgling flower farm business, Madi Jo's Grows. She even earned an award from the nonprofit New York State Flower Industries organization, which gave her seed money to purchase supplies.
"Being in the greenhouse and working on the farm makes me feel like I'm getting closer to my goals every day,'' Marsh said. "I have been able to start my business already because I chose this program.''