Justanna Bohling '13 keeps a bag packed with her firearm, a helmet with night vision goggles and heavy plated armor that will stop rifle rounds.
She is trained in searching for fugitives, responding to active shooter situations and assessing radiological threats, and is constantly prepared to be deployed to any part of New York State.
Bohling is the first female member of a special operations team assembled by the New York State Department of Environmental Conservation to assist law enforcement officers in crisis situations.
"We are sent where we are needed," Bohling said. "You have to be ready, you have to be packed, and you have to go where they say."
She was sworn in last summer, after completing rigorous training that assessed her physical capabilities, her shooting skills and her ability to respond under pressure.
The designation is the latest honor in Bohling's career, which has focused on protecting both the people and the natural resources of New York State.
"This is my dream job," she said.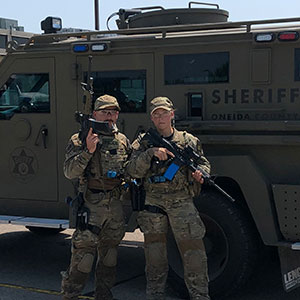 A love of the outdoors
Growing up in Homer, New York, Bohling fell in love with the outdoors while hiking with her grandmother at Tinker Falls and Song Mountain.
She chose SUNY Morrisville to pursue a bachelor's degree in renewable resources, which prepares students for jobs in planning and managing in natural resources, soil and water conservation, environmental science, environmental technology, wetland management and aquaculture and aquatic science.
"They prepared us to go out into the field," Bohling said of faculty and staff in the hands-on program. "It didn't matter if it was snowing or icy or raining — we were out in the elements, just like a full-time job."
Her senior internship with the New York State Department of Environmental Conservation turned into a job after graduation in the forestry division, overseeing state lands in the Mohawk Valley and planning annual harvests to keep woodlots healthy.
She then moved on to managing private properties, connecting homeowners with tax credits for keeping portions of their properties wild.
But her sights were set on becoming an environmental conservation officer, a force of sworn police officers that enforce the state's environmental laws and protect natural resources. The job required a six-month training academy in Pulaski, New York, where Bohling took on physical challenges to test her endurance and learned about firearms.  
"Most people who are hunting or fishing are carrying a firearm or a knife," she said. "You have to be ready for any scenario; you can't underestimate a situation."
The six-month residential academy was followed by a post on Long Island, New York, where Bohling fell in love with the landscape and the job.
"It is a beautiful place to work," she said. "I have loved it so much."
A typical day for Bohling could include checking licenses for freshwater fishermen, monitoring waterfowl and sport hunting, or making sure out-of-town visitors aren't clamming in uncertified waters.  
"It's a lot of outreach and education," she said. "Those positive interactions with law enforcement can make a difference."
A higher calling
Even as she excelled in her role as an environmental conservation officer, Bohling pursued a calling that she discovered during her first days on the job.
With an active shooter barricaded in a building across the street from her office in Herkimer, New York, Bohling and her coworkers were told to shelter in the basement.
While other officials resolved the situation that day, the experience confirmed for Bohling that she wanted to be a part of responding to difficult situations
The urge to serve was cemented in the summer of 2015, when Bohling was part of a 20-member crew of forest rangers and volunteers from the DEC who traveled to eastern Oregon to help contain a 26,000-acre forest fire. In 16-hour shifts, the team battled through smoke-filled air to help control the wildfires for two weeks.
So when a special division of environmental conservation officers was created to assist law enforcement officers in crisis situations, Bohling knew she had found the next step of her career.
The team was recruited after DEC officers played a pivotal role in the manhunt for escaped convicts Richard Matt and David Sweat from Clinton Correctional Facility in rural Dannemora, New York. The skills of the foresters were noted in the aftermath of the 23-day search involving more than 800 law enforcement officers from state, local and federal agencies.
"They knew how to cut trails, to follow and track people in a wooded area," Bohling said.
The 21 members of the special weapons and tactics team (or SWAT) are stationed across New York State. They train twice a month and have to be prepared to respond to a call at any time.
"When people are in trouble, they call the cops; when cops get in trouble, they call SWAT," Bohling said in a video on the DEC website. "I wanted to give my skills to other officers and be able to support and help them."
The weekend after she graduated from SWAT training, Bohling was dispatched to Bear Mountain to help track an armed fugitive who had killed his wife.
"We knew he had a rifle and he was hiding in a tent in the woods," she said. "That was all the information we had."
Other missions have included helping U.S. marshals execute arrest warrants and providing maritime security when New York State Gov. Andrew Cuomo launched an artificial reef down near Long Island.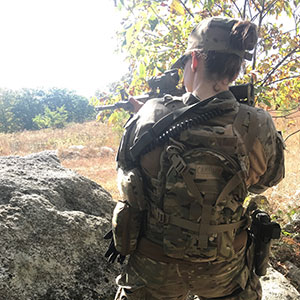 A member of the team
Bohling said she doesn't dwell on her status as the first female member of the special operations group.
"I don't feel the gender difference — I'm treated the same as everyone else on the team," she said. "We know and trust each other, that someone is there to back us up."
She is proud of her role as a drill instructor at the academy for new environmental conservation officers, assisting with physical fitness and defensive tactics training.
"It feels good to be able to help the future generations of officers," she said.
On her days off, Bohling enjoys running with her dogs, knitting and baking cakes for friends.
"When you take a job like this, it becomes a lifestyle," she said. "It's not something you can turn off.  
"One of the hardest things to do is to take care of yourself, because self-care is important."
Despite the stress, Bohling continues to push herself, training for new certifications that will help protect both the environment and the people of New York State.
"I would not trade my job for anything in the world," she said.
Finding ways to give back
Two weeks after graduating from officer training, Justanna Bohling lost her husband in an ATV accident in Lewis County.
Timothy Bohling grew up in Sauquoit, New York, and received his bachelor's degree in renewable resources from SUNY Morrisville in 2011. The couple had met as students at SUNY Morrisville and were married in June 2013 by professor Bill Snyder.
A lover of the outdoors, Timothy enjoyed hunting, fishing and hiking with his wife and the couple's two dogs.  
After her husband's death, Justanna threw herself into her work and leaned on her coworkers for support.
"This position gave me mental sanity," she said. "It helped me be able to focus my energy."
The assistance she received inspired her to join the department's critical incident stress team, which offers support if a fellow officer is involved in an accident or shooting.
"I'm very humbled and honored," Justanna said of the role. "I would love to be able to help other people the way they helped me."
A nonprofit foundation in Timothy's honor has awarded more than a dozen scholarships to graduating seniors in Upstate New York.
To learn more about the scholarship program, visit timothyabohlingfoundation.org.