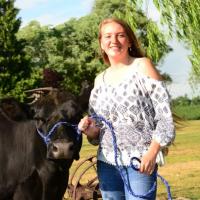 Student, Agricultural Business Development B.B.A.
I chose Morrisville for the hands-on learning experience, classroom sizes and professor-to-student ratios. I am an active member in the SUNY Morrisville Livestock Club and SUNY Morrisville Dairy Club. During the summer of 2020, I had the unique opportunity to work alongside Dr. Jennifer Gilbert-Jenkins, as a summer intern, researching the effects of fertility on hemp. Through my courses, I have been able to make great connections in agriculture on- and off-campus.
I plan to have a career that involves sustainable agriculture. I want to be a part of improving agricultural systems that are beneficial to the environment and the producer, while also being largely efficient to feed the ever-growing population of the world.