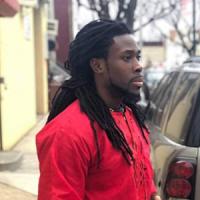 Internship Student, Agricultural Business Development B.B.A
Tweh Johnson, from Staten Island, is a cannabis studies student completing his 15-credit internship with SUNY Morrisville's Four Seasons Farm and Spader Greenhouse. Tweh is assisting with growing, harvesting, financial management and research of vegetables, herbs, and hemp operations. He currently works at the college's aquaponics, hydroponics and fish hatchery operations.
Tweh plans to grow his business, Livinlove, LLC, distributing Super Foods/other organic products essential to optimum health, landscaping, remediating areas, while later practicing Naturopathy/Martial Arts as a Naturopathic Doctor (N.D). 
Philanthropy and giving back are very important to Tweh. He is well on his way to becoming a billionaire philanthropist and continuing to give back to the children he coaches in Central Park.