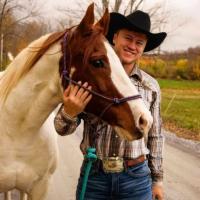 Alumni, Agricultural Business Development B.B.A.
Tyler graduated in May 2022 with a bachelor's degree in agricultural business development. He also earned an associate degree in agricultural science from SUNY Morrisville. His goal is to attend veterinary college.
He completed his 15-week internship with Rood and Riddle Equine Hospital, a large-scale equine hospital with branches in Lexington, Kentucky, Saratoga Springs, New York and Wellington, Florida. Tyler is now a full-time surgery assistant with Rood and Riddle, where he assists with the care of patients before, after and during surgery at the Saratoga Springs hospital.
Tyler spends his spare time helping on his family's beef farm in Hoosick Falls, New York.